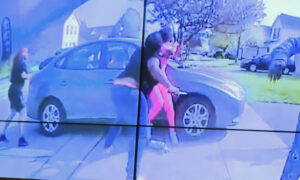 The foster mother of a knife-wielding Ohio teenager who was killed during an officer-involved shooting earlier this week revealed that an argument about house cleaning triggered the dispute.
Angela Moore, the foster parent of 16-year-old Ma'Khia Bryant of Columbus, said Thursday that the dispute took place when two former foster children were at Moore's home.
"It was over keeping the house clean," Moore told CNN about what led to the dispute. "The older one told them to clean up the house because 'Mom doesn't like the house dirty.'"
Moore continued: "That's how it all started."
Video footage released of the incident showed Bryant attacking several people with what appeared to be a knife. A police officer then fatally shot the teen, leading to Black Lives Matter protests.
At one point in a police body-camera video, Bryant is seen lunging at a woman who was standing in the driveway and forced her to the ground. A man is then seen kicking the woman as she tried to get up.
Moments later, Bryant then lunged at another woman wearing all pink while she was armed with a knife. That's when the officer, Nicholas Reardon, opened fire, fatally striking Bryant.
In 911 dispatch calls, a woman is heard speaking to authorities. "Come up here!" the woman yells. "We got … grown girls over here trying to fight us, trying to stab us, trying to put her hands on our grandma, get here now!"
Before shots were fired, a voice could be heard yelling: "I'm gonna stab the [expletive] out of you, [expletive]" as Bryant was filmed attacking a young woman with a knife.
Debra Wilcox, Bryant's grandmother, said that the behavior exhibited by the teen on the video was unlike her.
"The fact that I see what I saw on that video is not how I know my Ma'Khia," Wilcox told The Associated Press earlier this week. "I don't know what happened there unless she was fearful for her life."
Meanwhile, a neighbor of the teen released his own camera footage of the incident, saying he believes officers involved in the incident had no other choice but to shoot.
"They were calling each other the B-word, so I figured it was just a girl fight," Donovan Brinson told The Columbus Dispatch on Thursday before the situation escalated.
In an interview with Fox News, Brinson said he believes the officer "did what he thought was best" given that he only had seconds to react.