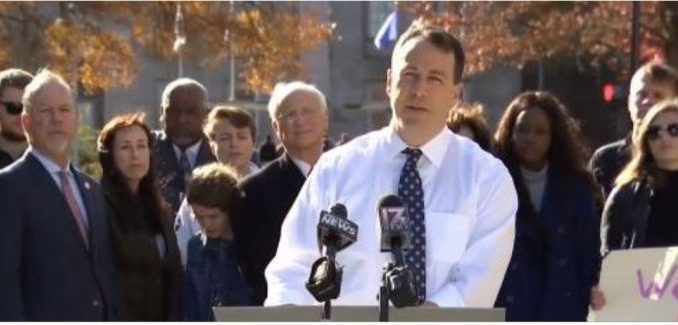 OAN Newsroom
UPDATED 2:21 PM PT – Wednesday, October 21, 2020
Democrats have continued to express support for North Carolina Senate candidate Cal Cunningham, even after reports emerged he was engaged in an extramarital affair.
A poll released on Tuesday found Cunningham and Sen. Thom Tillis (R- N.C.) are still running neck and neck with the Democrat sitting at 49 percent support among likely voters while Tillis is at 47 percent.
Earlier this month, the news site 'The National File' published evidence of Cunningham's affair with the wife of an army veteran.
The Senate candidate admitted to the scandal in a statement but has refused to drop out of the race. He has also faced a second accusation alleging his involvement with another woman since 2012, but he has not admitted to those claims.
Since releasing the statement on the first affair, Cunningham has avoided answering any direct questions about his personal life. He's currently married and has two teenage children.
In the meantime, Sen. Tillis has grasped onto the scandal, pointing out his opponent's entire messaging has been about "integrity" yet his affair shows he's a hypocrite.
"Cal Cunningham was running on a campaign of truth and honor, but he was being untruthful and dishonorable in the midst of this campaign," said the North Carolina lawmaker.
Still, mainline Democrats continue to throw their support behind Cunningham. On Monday, North Carolina Gov. Roy Cooper (D) was caught on a hot mic telling Joe Biden he thinks Cunningham will can still win the race despite his scandal.
Cunningham, who is a lieutenant colonel of the Army Reserve, is now under investigation by the army for his conduct.