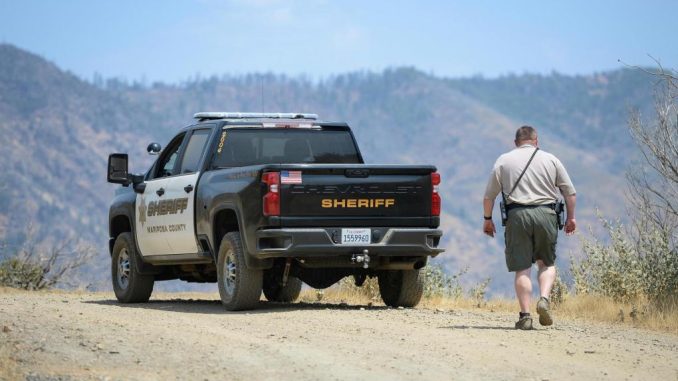 OAN Newsroom
UPDATED 11:06 AM PT – Friday, October 22, 2021
Authorities release the cause of death for a family found on a hiking trail in Northern California. According to Mariposa County officials, the family likely died from extreme heat stress and dehydration.
"The cause of death for Jonathan Gerrish, Ellen Chung, Aurelia "Miju" Chung-Gerrish has been determined as hypothermia and probable dehydration due to the environmental exposure," announced Sheriff Jeremy Briese of Mariposa County.
The County Sheriff released the family's likely cause of death on Thursday after they and their dog went hiking on a trail located in the western foothills of the Sierra Nevada Mountains in August. Officials confirmed the family was walking in a remote area close to the Merced River located in the Sierra National Forest and the extreme heat likely got to them.
After friends reported them missing, the married couple, their one-year-old daughter and their dog were found less than two miles from their vehicle with empty water containers. Experts said temperatures in the area ranged from 107-to-109 degrees Fahrenheit.
Jonathan Gerrish, Ellen Chung, Aurelia Miju Chung and their family dog Oski, whose bodies were found on August 17 on a hiking trail in Mariposa County, California, died of hyperthermia and probable dehydration, the county sheriff said pic.twitter.com/IInPsjuPBR

— Reuters (@Reuters) October 22, 2021
"Once we were able to establish the timeline and once we were able to establish the confirmed weather and then also the terrain and the lack of shade and lack of water, once we got all of that together, as well with the pathology report or the autopsy reports, it all pretty much clicked together," said Briese.
Toxicologists and environmental experts were able to rule out the causes of death being related to a weapon, carbon monoxide, carbon dioxide, drugs, alcohol or suicide. Officials closed campgrounds and recreation areas near where the family was located on the 2.8 mile Savage Lundy Trail, which is said to be the most difficult trail in the remote area.
"This trail in this area severely in elevation, and, as well as the initial hike started off at, I believe, 74 degrees. By the time they got down walking the roadway before they hit the trail, it's already jumped to 103, so yes it definitely fluctuated," said the Sheriff.
Meanwhile, friends and family members continue to mourn over the loss of their loved ones and left a statement with police.
"Our hearts will never forget the beautiful lives of Jonathan, Ellen, Miju and of course, Oski. They will remain with us wherever we go and whatever we do," relayed Kristin Mitchell, the county public information officer.
The Mariposa County Sheriff's Office will release information in the death investigation of a local family that was found on a hiking trail. https://t.co/goQZBmfxeO pic.twitter.com/KgRNGCrIw7

— ABC30 Fresno (@ABC30) October 21, 2021