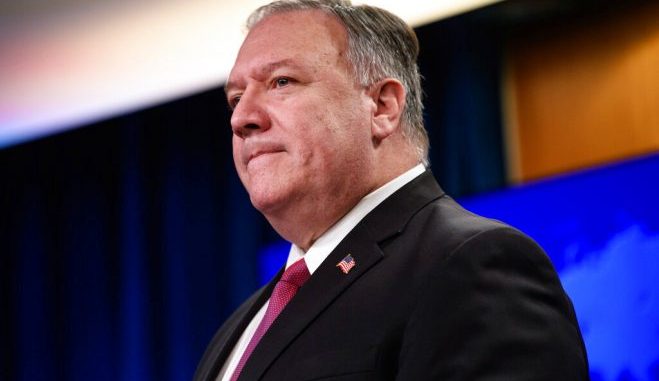 OAN Newsroom
UPDATED 1:09 PM PT – Wednesday, October 21, 2020
U.S. Secretary of State Mike Pompeo recently stressed the strategic importance of the relationship between the U.S. and the United Arab Emirates as well as the two countries' ongoing efforts to promote greater regional stability in the Middle East.
He addressed this during remarks at the virtual inauguration of the first U.S.-UAE strategic dialogue on Tuesday. Pompeo opened his message by taking a moment to celebrate the landmark deal recently brokered by President Trump and underlining its promise for the future of the region.
"'During the Trump administration, the United States and the United Arab Emirates relationship has grown deeper and broader than at any point before," stated the U.S. official. "I think having this dialogue is evidence of that."
The strategic dialogue introduces a new framework of binational cooperation aimed at creating a guideline for progress across different areas of vital importance to long-term goals of regional development and stabilization.
Pleased to launch the inaugural U.S.-UAE Strategic Dialogue today with UAE Foreign Minister Abdullah bin Zayed. In addition to reinforcing security, defense, education, cultural, and commercial ties, we've made space programs and human rights prominent features of our dialogue. pic.twitter.com/Z508WLcHND

— Secretary Pompeo (@SecPompeo) October 20, 2020
While speaking on this, Pompeo declared himself optimistic over the prospects raised by increased cooperation between the U.S. and regional powers as well as by the Trump administration's continued efforts to heal historic rifts between Arab states and Israel. He also reasserted America's dedication to support Middle Eastern states committed to promoting democratic ideals and individual freedoms.
"Today's MOU will build on those hopes in eight key areas of partnership: politics, defense, law enforcement and border security, intelligence and counterterrorism, human rights, economics, cultural and academics, and space," announced the secretary. "I am confident that the United States and the UAE's strategic partnership across every one of these dimensions will grow in the years to come."
The secretary of state also highlighted how increased cooperation between the U.S., Israel and Arab nations will enable the region to better contain the expansionist ambitions and mounting aggression of Iran's totalitarian regime.
Pompeo pointed out the Trump administration has already, through its increased focus on Middle Eastern diplomacy, taken several strides to counter Iranian attempts at regional destabilization.
"And we stand together on the international stage to counter the greatest destructive force in the Middle East: the Iranian regime," he stated. "I want to personally thank the UAE for its support of our maximum pressure campaign, which has denied Tehran access to weapons valued at more than $70 billion."