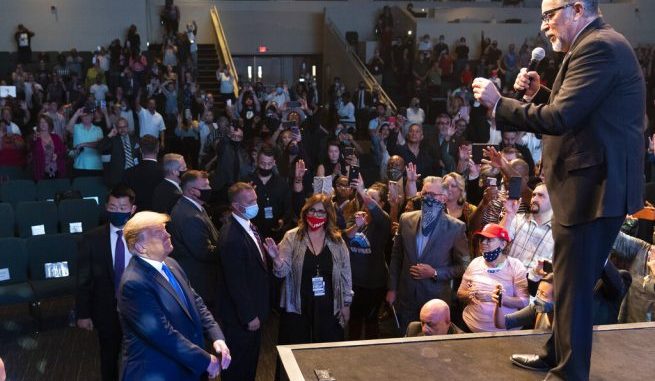 OAN Newsroom
UPDATED 10:19 AM PT – Monday, October 19, 2020
Faith leaders in Las Vegas, Nevada have predicted a decisive Republican victory in upcoming elections.
On Sunday, President Trump attended the International Church of Las Vegas during his campaign trip to the state, where he received a blessing from the clergy and made an offering during the service. The President had visited that same church in October 2016, shortly before winning the election.
Nevada faith leaders also praised President Trump for ensuring safety and prosperity for all Americans.
"We bless this man, we bless his princess, the First Lady," said Pastor Paul Marc Goulet. "We bless her, helping to hold onto his kids…we bless this whole family."
President @realDonaldTrump delivers remarks at the International Church of Las Vegas this morning pic.twitter.com/PYU9h1cMOa

— Team Trump (Text VOTE to 88022) (@TeamTrump) October 18, 2020
Later, the President held a rally in Carson City, where he explained the Democrats would threaten religious freedoms if given more power and would use the pandemic to stifle religious expression.
"Under the Biden lockdown the lights of Reno and Las Vegas were extinguished…Carson City would become a ghost town," warned President Trump. "If he comes in, Carson City would become a ghost town and the Christmas season will be canceled."
Throughout his term, President Trump has been a fierce defender of religious rights, including supporting the Justice Department's religious liberty task force and signing an executive order promoting free speech as well as religious liberty.