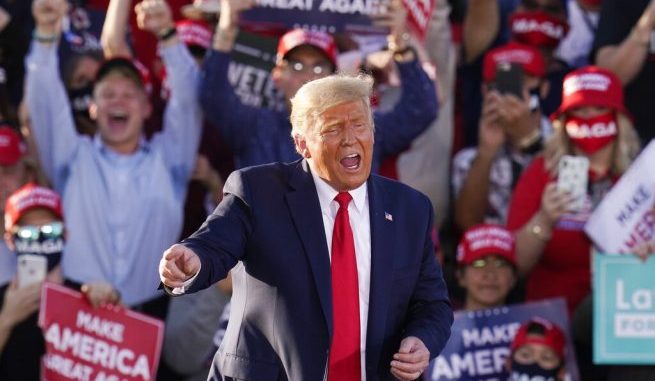 OAN Newsroom
UPDATED 7:29 AM PT – Tuesday, October 20, 2020
President Trump has remained hot on the campaign trail, recently making two stops in the battleground state of Arizona. He made his first appearance with a rally at the Prescott Regional Airport on Monday.
While speaking to supporters, the President reiterated calls to prosecute his Democrat opponent, Joe Biden, for his shady business dealings in Ukraine. President Trump said if it weren't for Attorney General William Barr, Biden would already be in prison.
Just arriving in Prescott, what a crowd! I love Arizona!! pic.twitter.com/qssvOznppz

— Donald J. Trump (@realDonaldTrump) October 19, 2020
With the prospects of a potential criminal in the White House, the President turned to the upcoming elections by encouraging voters in the Grand Canyon State to cast their ballot.
"We're going to win the state of Arizona and we're going to win four more years in the White House," he told the crowd. "Everybody needs to get out and vote…return your absentee ballot today or vote early in person as soon as you can."
Shortly after the Prescott rally, the President traveled south to Tucson, Arizona. He promised his supporters the pandemic is finally turning around and applauded Gov. Doug Ducey (R-Ariz.) for reopening the state. His remarks came just weeks after all counties in Arizona were given the green-light to reopen businesses.
"We are rounding the turn, we have the vaccines coming and all…people are pandemic-ed out," President Trump stated. "You know that their pandemic-ed out, that's why it's so great what your governor has done."
The President capped off the rally with a promise to Americans:
"We are going to keep on working, we are going to keep on fighting and we are going to keep on WINNING, WINNING, WINNING."