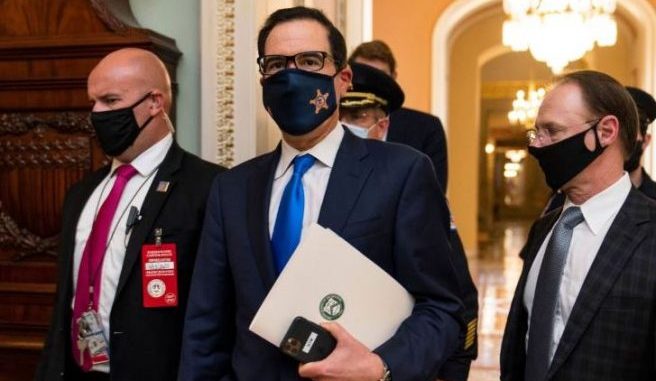 OAN Newsroom
UPDATED 1:55 PM PT – Wednesday, October 14, 2020
Treasury Secretary Steven Mnuchin recently criticized Nancy Pelosi for her unwillingness to reach a compromise on a COVID relief bill. The secretary and House speaker held yet another round of stimulus talks on Wednesday, but could not reach an agreement.
"We continue to have discussions and try to compromise on a broader package," stated Mnuchin. "I will say from our standpoint, the all or nothing approach doesn't make sense."
Pelosi has taken a hardline stance by demanding the Senate and the Treasury accept her $2.2 trillion proposal.
The administration has offered a $1.8 trillion package.
"The President is interested in seeing significant support for the U.S. economy for those areas that are hardest hit," added Mnuchin. "The good news is a large part of the U.S. economy has come back strong, …we're now back down to below 8% unemployment."
However, Pelosi has claimed she has leverage over President Trump to have her political wish list attached to COVID stimulus. It remains unclear if the sides will reach an agreement this year.