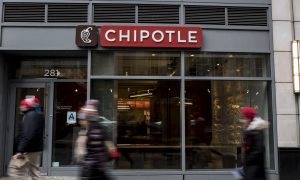 Some Orange County restaurants say they're offering bonuses to encourage new hires as they struggle to recruit new employees.
Newport Beach-based Chipotle Mexican Grill announced May 10 that it would increase average hourly wages to $15 by June, in an attempt to incentivize workers to join and stay on their team.
"Our restaurants have remained open during [the pandemic], so the main sentiment continues to be gratitude for keeping workers employed," Chipotle spokesman Tyler Benson told The Epoch Times via email.
"Parts of the country are at different stages of recovery, and we have heard anecdotally that some people are not ready to return to work due to childcare or health concerns. Other people are not in a hurry to get back to work due to the availability of generous stimulus money and unemployment benefits."
The restaurant chain is also offering employee referral bonuses of $200 for restaurant workers and $750 for managers to try and fill the increased demand of customers and to help open thousands of more restaurants in time.
"[W]e are seeing increased staffing needs to meet our current demand and we are building our teams for future growth," Benson said.
The anticipated growth comes as Orange County seems poised to enter the least-restrictive yellow tier. Supervisor Lisa Bartlett told The Epoch Times the county could land in the tier as early as May 19.
Moving into the yellow tier under California's blueprint for a safer economy allows restaurants to accommodate indoor dining with a maximum capacity of 50 percent, or 75 percent if all guests show proof of a negative COVID-19 test or full vaccination.
Gov. Gavin Newsom's office has also announced that the state will allow all 58 counties to leave the tiered system June 15 for a "full reopening" with "commonsense safety measures", though information has still not been released as to what guidelines businesses will still need to follow.
Jim Walker, an Orange County-based restauranteur and former president of the Newport Beach Restaurant Association, said that the industry has been hurt by a lack of residents wanting to return to work.
"There is a huge shortage in back-of-the-house kitchen staff, and those who are available are dictating what they want to be paid," Walker told The Epoch Times via email. "Finding hostesses and bartenders is our biggest ongoing challenge."
Due to the lack of willing employees, Walker said he is now offering bonuses to employees who stay on for a certain length of time and offering staff bonuses for referring potential new employees. He added that he has heard of some restaurants offering $50 for people to just fill out a job application.
"People are staying home because they can make more money from stimulus extension than if they go back to work," Walker said.
He continued, "Those coming across the border who might normally immediately become part of the labor market are not doing so because of all the government aid currently being handed out. They are not motivated or desperate to get a job once they are in the U.S."
Walker, who owns Bungalow Restaurant in Corona del Mar, Cedar Creek in Brea, and Domenico's Pizza in Belmont Shore and another that is opening in July, said a lack of employees is not the only problem the industry is facing.
"Costs are rising significantly too. The industry is becoming very chaotic due to COVID," he said. "Cattle breeders have cut back on their herds due to lack of demand. In one week meat costs for a bone-in ribeye went up a staggering $7 per pound."
Many suppliers have inventory stuck in container ships off the coast, Walker said, due to longshoremen that are receiving hazard pay are not motivated to unload containers quickly.
More than just food costs, Walker said he pays $100,000 in credit card fees every year.
For restaurants to make up for the funds lost, some are tacking on a four percent percent "Kitchen Appreciation Fee" or "COVID Recovery Fee" automatically to the total of the restaurant bill, without warning customers first, he said.