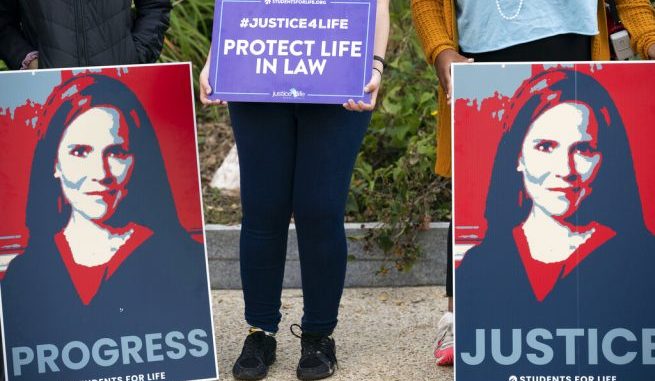 OAN Newsroom
UPDATED 1:10 PM PT – Wednesday, October 14, 2020
A recent survey has revealed an uptick in Americans' support for Judge Amy Coney Barrett. According to the new poll, 48% of registered voters said the Senate should vote to confirm Barrett.
This number was up 2% from a poll conducted one week ago.
The survey also showed an 11% increase in the level of support for President Trump's Supreme Court nominee since his announcement on September 26th. The numbers came amid the judge's confirmation hearings this week, where Barrett has been answering questions from the Senate Judiciary Committee.
"I want to be careful to say that if I'm confirmed, you would not be getting Justice Scalia, you'd be getting Justice Barrett," she stated.
The committee has questioned her on many topics, including the Affordable Care Act, voting rights and abortion.
Some members of the Senate panel have expressed how impressed they are with Barrett, including Sen. John Cornyn (R-Texas).  A moment between the two quickly went viral.
Sen. Cornyn just asked Amy Coney Barrett to hold up her notes she brought with her.

She held up a blank piece of paper. She isn't taking notes. She's that smart. pic.twitter.com/CmoFgMmTvt

— Caleb Hull (@CalebJHull) October 13, 2020
Ranking member Sen. Diane Feinstein (D-Calif.) also shared the same sentiment as she grilled Barrett on the topic of severability.
Even Democrats can't deny Judge Barrett's impressive legal expertise

Sen. Feinstein responds to Judge Barrett's answer on severability: "I'm really impressed" pic.twitter.com/EMlPOXcXTH

— White House Rapid Response (@WHRapidResponse) October 14, 2020
The Senate Judiciary Committee is expected to approve Barrett's nomination next week, paving the way for a full Senate vote later this month.