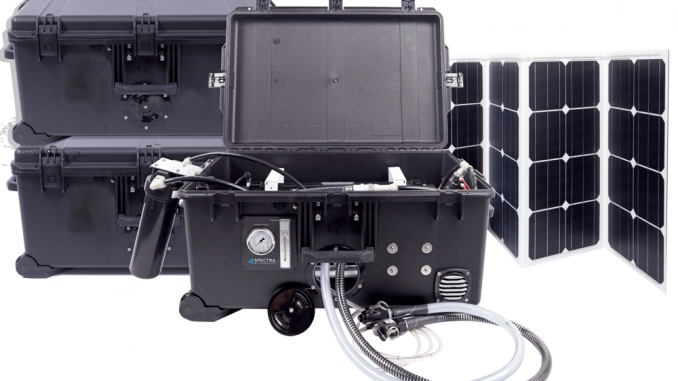 Summer is beginning to wind down, and we're starting to look toward autumn. This is a great time to make plans for camping, hiking and other outdoor pursuits. While you're making the fun "to-do" lists, don't forget to wrap up the chores around the house that you won't want to tackle once the temperature drops and the snow begins to fly. When you put your mind to it, you might be surprised how much you can accomplish in just a weekend afternoon—and still have time to relax in front of a fire on the patio.
The Rapid Raft is the lightest and most packable raft on the market today. It weighs just under 4 pounds and starts out about the size of a loaf of bread. It inflates and is ready to go in under one minute—without the use of any tools. It deflates just as quickly when you undo the patented buckle system. This raft is perfect for solo flat-water crossings, making it a great option for hunters, campers and those who just want to spend an afternoon wetting a line. It measures 33×72 inches and has a 400-pound capacity.
MSRP: $450
Available in three sizes (0.75L, 1.0L, 2.0L), the DuoLock SoftBottle is a great way to carry water with you or ensure you have an extra container in your pack, just in case. Empty, it rolls up nice and small, taking up very little space. The cap has dual locking mechanisms to prevent spills and leaks. The handle has a clip gate, so you can easily attach the bottle to a pack strap. The SoftBottle comes in a range of patterns and colors.
MSRP: Starting at $11.95
Each Brass Monkey is one of a kind, made by hand in Colorado's Kopis Designs workshop. The finished product is a half pound of fist-filling fury. The Brass Monkey is 5.625 inches long and 0.875 inch thick. It's a defense weapon similar to a kubaton or dulo dulo, but with multiple options for use. The point works great against nerve endings and soft tissue, while the blunt end is a bludgeon. A Brass Monkey also adds weight and power to fist strikes.
MSRP: $200
We saw this new style of first aid kit at SHOT Show earlier this year. Rather than a pouch or box, it's set up as a rollout kit—not unlike some tool kits. Each item has a labeled pocket, so everything is easy to find. In addition, should the need arise, the fabric can also be used as a sling. There's also a roll of medical-grade duct tape marked with 288 bandage templates that can be cut out. Alternatively, you can create a custom shape.
MSRP: $109.99
The Earth Skills Knife was designed by Matt Graham. He's very well-known in the survival community as an expert in primitive skills, martial arts and much more. The knife is thinner than you might expect: just 0.125 inch. This makes it a great slicer. It's a large knife, stretching 14.25 inches from end to end, but it's very fast in the hand, weighing fewer than 12 ounces. The 1095 steel is easy to sharpen and holds an edge well. A brown leather belt sheath is included.
MSRP: $225
Yes, it's expensive, but this reverse-osmosis desalinator/purifier system can be a lifesaver when a sizeable group is rocked by a disaster. Effective on fresh, brackish and saltwater, this unit is packed in three rugged Pelican roller cases and can be powered by included solar panels, as well as other AC or DC sources. Used by disaster relief organizations, the Flight Ready Aquifer consists of the company's Aquifer 360 Expedition Watermaker and the AF-360 Solar Power Pack.
MSRP: $22,750
This light is small enough to be carried easily, but it blasts out a whopping 500 lumens. Or, dial it back to a more reasonable 50 lumens when you need the maximum battery runtime. It's USB-rechargeable via a port that's hidden by a metal sleeve. Pull the sleeve forward, charge the light, and you're all set. Because it's just 4.5 inches long, you'll never notice it in your pocket.
MSRP: $90
A small tomahawk could be one of the handiest additions to your kit. Use it for preparing firewood and other chopping tasks to save your knife edge for chores that require more precision, such as food prep or skinning game. At 10 inches long and weighing just over a pound, the Jenny Wren Compact 'Hawk isn't a boat anchor to lug around. It comes with a MOLLE-compatible sheath so you have carrying options. The glass-reinforced nylon handle is textured for a positive grip.
MSRP: $135
A ferrocerium rod is something many survivalists would consider an essential part of a daily load out. It works in any weather conditions, sending out sparks to light your tinder. Now, the greater the surface area you're scraping on the rod, the larger the shower of sparks that will result. Thus, the beauty of the Hexa ferro rod. Rather than a cylinder, you're scraping a flat surface. It comes in two lengths, three inches or six inches.
MSRP: Starting at $18
Preppers and survivalists have been making little survival kits for ages. The folks at Tiny Survival have it down to a science. The Pocket 30 is an ultralight, micro survival kit that includes items for water collection and purification, food procurement, gear repair, fire starting, rescue assistance, navigation and more. The entire kit is designed to fit into a standard metal mint tin. This is the perfect last-ditch kit for anyone who ventures out into the field.
MSRP: $19.97
The Campfire Trio is a collection of, you guessed it, three great pieces of cooking tools. The Fire Safe forms the base. It is a stainless-steel fold-out bed for wood or charcoal fires. Over that is placed the Grill M1 Edition, a height-adjustable cooking surface. It consists of just two parts, a frame that spreads open and then the actual grill that unrolls and secures. The final piece of the Trio is a great quality ferrocerium rod (not shown) for lighting your cook fire.
MSRP: $197
Almost too pretty to use, the Baja 4.5 RE still has the work ethic of all TOPS Knives. The 5.4-inch 1095 steel blade is agile and right-sized for many tasks around camp and the presentation-grade leather sheath perfectly complements the tan canvas Micarta scales. The 5/32-inch thick blade and the full flat grind combine to add strength over 1/8-inch stock, which is perfect for when the going gets tough. The jimping added to the spine and finger guard help ensure you will maintain control, even in wet or hard use situations.
MSRP: $180
Looking for a folder with a little more character than your typical EDC? The Tac-Raze 2 may be what you're looking for. The green Micarta handles and blade shape are updates to their first friction folder and the Black River Wash finish further sets the design off, preventing the possibility of confusing it with a straight razor. The 1095 steel blade is just over 3 inches and the knife opens to 7.5 inches. The brown leather belt sheath is included so you can safely keep it close at hand.
MSRP: $130
This small kit is supremely handy. It contains six hex bits, including metric, Torx, SAE, and Phillips, as well as a pistol punch tool. The magnetic ratchet is bi-directional and has just enough length to be useful without cramping your fingers trying to hold on to it. It also features a pry tool and bottle opener. The entire tool kit is carried in an elastic holster with a belt clip and attaches easily to MOLLE webbing.
MSRP: $19.99
While few of us would expect to be able to keep squeaky clean in the field, being able to wash up a bit will certainly be appreciated. Combat Wipes are alcohol free. They have aloe and vitamin E as well as being antibacterial. The wipes are thick and soft, measuring 7.1 x 8.3 inches. The soft-sided travel-friendly package holds 25 wipes and dispenses one wipe at a time. When you're done with it, you can just bury it as they are 100 percent biodegradable.
MSRP: $10.99
The Shuffle DIY is a multi-function pocket knife, containing a sharp blade, a flathead bit, Phillips bit, and bottle opener, all in a very compact package. A magnet keeps the bits in place when they are in use. The blade has a thumb stud for easy opening. A liner lock keeps the blade secure once it has been deployed. At 3.5 ounces, it has a little heft for the size, giving it a robust feel.
MSRP: $40.41
Editor's note: A version of this article first appeared in the August, 2020 print issue of American Survival Guide.