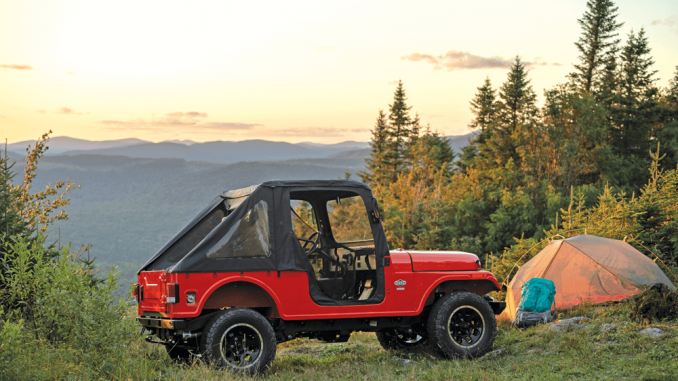 It needs a rifle rack for an M1 Garand or a BAR," I thought. "Or maybe a mount in the back for a 'Ma Deuce' .50-caliber machine gun."
At first glance, the ROXOR looked like a World War II Jeep with a fancy, new paint job. After a couple of outings with it, I walked away thoroughly impressed: Here's a vehicle that combines old-school simplicity and rugged, quality construction with modern engineering.
It's an off-road vehicle suitable for both hard work and good-time adventures. And, if you've ever considered a vehicle for bug-out transportation for use during devastating times—one with a lineage that includes withstanding the rigors of a world war—the ROXOR would seem to qualify.
If the ROXOR reminded me of a World War II Willys Jeep, it was no accident. Mahindra of India licensed the rights to the Willys Jeep design and has been building them for more than 70 years. Mahindra Automotive North America now assembles the updated ROXOR in its Auburn Hills, Michigan, plant.
While it looks as if it could be equally at home on pavement, the ROXOR is strictly for off-road use. It has no turn signals, air bags or other accoutrements necessary to qualify it for highway use. The ROXOR is positioned to compete with side-by-side utility task (or terrain) vehicles (UTVs), such as those from Polaris, Honda and John Deere.
It might not be as nimble as a side-by-side sport model (such as the Polaris RZR), but the ROXOR has some distinct advantages, especially when it comes to handling tough jobs.
For one, while many UTVs are simply upscaled recreational models that use rubber belts in their transmissions, the ROXOR, like the Willys Jeep before it, is really a downscaled truck. The ROXOR has a fully boxed, ladder-constructed steel frame and steel body. It has an automotive transmission and a four-cylinder, 2.5-liter turbo diesel engine powering it. It has 16-inch wheels and off-road radial tires. And, it can tow 3,490 pounds.
For people who love the outdoors and have a "be prepared" mindset, finding ways to use the ROXOR is limited only to the imagination.
Use it to haul building materials for that hunting shack or bug-out retreat you've always wanted. Tote garden supplies in the spring and your harvested produce in the fall. Haul sacks of feed for livestock and seed for your wild game food plot. Save your back and instead of dragging that downed deer, load it into the back of your ROXOR.
Reassess your emergency escape plans. If they include setting up a remote base camp, the ROXOR can get you there. Don't forget, too, that the ROXOR is just plain fun for driving around the property or taking it to the trails at an off-road vehicle park. Then, hose if off and go back at it again the next day.
Naturally, I couldn't write about the ROXOR without getting one of them muddy to find out its capabilities for myself. I got together with local ROXOR dealer Rich Borra, owner of O'Shea Tire & Service Center in Cortland, New York. He was more than willing to take off from work for a couple of days for some fun on nearby trails.
The ROXOR we tested was a sand-colored 2019 model. The ROXOR is available in seven standard colors, but Rich told me there are about 400 custom paint and wrap patterns you can special-order. This one was a two-seater, leaving plenty of cargo room in the back. The cargo bed was coated with a super-scratch-resistant wrinkle finish the company calls "ROXliner." As an option, you can have the whole outside of the vehicle coated with this as well.
It was equipped with a windshield, a soft "bikini" top on the roll cage, grab handles and side door netting. Storage compartments were located under each seat. Drain plugs on the floor allowed for easy hosing out of the vehicle after a day in the mud. The dashboard featured a single gauge that incorporated a speedometer, odometer and fuel gauge. There was a single, 12-volt utility power outlet. This particular vehicle had an automatic transmission, with a second lever to shift the vehicle from four-wheel-drive "high" to four-wheel-drive "low." ROXORs are also available with a five-speed manual transmission.
Our trail test of the ROXOR took place in Northeast spring conditions. That means mud. We took turns behind the wheel and navigated the labyrinth of trails cut through a wooded hillside. The ROXOR is about 60 inches wide, and many sections of the trail weren't much wider than that. And, while the ROXOR diesel engine generates just 62 horsepower, it had no problem pulling us up the steepest inclines.
Getting traction in the mud was sometimes not as easy. Most of it was just a matter of not being familiar enough with the vehicle to choose the right amount of momentum to get through the difficult areas. At times, I found it helpful to manually downshift the automatic transmission to a lower gearing and keep the rpms higher. The more I drove it, the easier it got.
"At first glance, the ROXOR looked like a World War II Jeep with a fancy, new paint job."
In addition, selecting the proper tires for the terrain is always key. That's no problem, because the ROXOR uses standard automotive tires. On the days we were out on the trails, tires with a more aggressive tread would have helped. That being said, we were never in trouble of getting stuck and never had the need to try the Warn winch Rich had mounted on the front bumper.
Uphill, downhill, across shallow streams and through mudholes, the ROXOR was absolutely fun to drive. I don't think I stopped smiling the whole time!
While I wouldn't want to race this ROXOR against the off-road motorcycles I grew up riding or the Polaris RZR I drove around Moab, Utah, I was impressed with the ROXOR for its potential as an all-round utility vehicle because of its rugged construction and off-road performance.
"Uphill, downhill, across shallow streams and through mudholes, the ROXOR was absolutely fun to drive. I don't think I stopped smiling the whole time!"
I have just two concerns about the vehicle.
First, the turning radius is terrible for a vehicle this size. That's just one thing you're going to have to take into consideration when judging the tight turns in the trail ahead. However, even with its wide turning radius, because the ROXOR is just 148 inches long, you can jockey it through most tight areas with a little judicious maneuvering.
The second thing I noted was the mere 9 inches of ground clearance on the basic ROXOR. This is one thing that can be remedied. You can, of course, add larger tires, but you can also get ROXOR's 3-inch Lift Kit with multi-plate, high-camber leaf springs, extended front stabilizer bar links and longer front and rear shocks. During my time with the ROXOR, ground clearance wasn't an issue (we never hit rock bottom). On the other hand, we weren't crawling over logs and boulders or diving into deep ruts either. (Incidentally, the ROXOR is equipped with skid plates underneath.)
With a vehicle such as the ROXOR, you'll start with the basic Classic model and equip it according to how you want to use it. You can keep the open-air experience with latching door nets or fully enclose the passenger compartment with a soft shell for protection against the elements. You can keep it as a two-seater with plenty of cargo room, or you can add two rear seats and an extended roll cage to protect your passengers.
Do you need to haul more? You can get a trailer for your ROXOR (ROXOR offers the RBT2000 trailer that's specially designed for it) or add the Stakebox kit, which features wooden stake box sides and a rear gate with a raised aluminum floor for storage above and below.
You can opt for such things as a heavy-duty front bumper with a Warn winch; trailer hitch; spare tire kit with mount and jack; top light bar; grab handles; "bikini" soft top; hard top; rear- and side-view mirror set; rear locking differential; and manual locking hubs. For those who live in areas that have a real winter, a snowplow mount is available too.
After spending some time off road with the ROXOR, I'm impressed that it is, indeed, built like a proverbial tank. In keeping with that theme, perhaps the coolest add-on is the Mattracks zRX Rubber Track Conversion System. It replaces your ROXOR's wheels with tank-like treads that should be able to get you through the worst mud, snow and loose sand with ease.
While the ROXOR would make a good off-road vehicle as part of your emergency escape plans, I don't see owners parking them in their garages for just in case the poop hits the propeller. This is a vehicle you can put to work and use all year long.
"For people who love the outdoors and have a 'be prepared' mindset, finding ways to use the ROXOR is limited only to the imagination."
Most criticisms I've seen of the ROXOR revolve around a few shortcomings people see with the basic model, such as those I cited with the ground clearance and turning radius. For general work around the ranch or homestead and casual recreation use, the basic model will suit you just fine.
For those diehard off-roaders who are looking for an extreme-use, off-road vehicle in the most challenging terrain, the ROXOR provides an excellent starting platform you can customize to your heart's content. However you decide to use it, and any way you decide to enhance it, you're getting a rugged, dependable vehicle that should be able to endure those tough tasks for years to come.
Wheelbase: 96 inches
Length: 148 inches
Width: 60–62 inches, depending on wheels chosen
Height: 75 inches
Weight: 3,035 pounds
Ground clearance: 9 inches
GVWR: 3,750 pounds
Towing capacity: 3,490 pounds
Fuel capacity: 12 gallons
Engine type: Liquid-cooled, direct-injection, 4-cylinder, 4-stroke, 2.5-liter turbo diesel
Power: 62 hp at 3,200 rpm
Torque: 144 ft-lb at 1,400–2,220 rpm
Transmission: 5-speed manual; 6-speed automatic; 2WD/4WD
Transfer case: 2-speed manual
Axles: Full-floating front; semi-floating rear; 5.38:1 ratio
Wheels: 16 inches, steel
Suspension: Rigid leaf spring with stabilizer bar, front; leaf spring with double-acting hydraulic shock absorbers, rear
Steering: Hydraulic power
Brakes: Dual hydraulic vacuum-assist; 11-inches disc front; 11-inches drum rear
Battery: 72 Ah/12 volt
Alternator: 45–90 amps
Lighting: Halogen headlights
Standard colors: Molten Red; Bonfire Orange; Sand; Shadow Gray; Signal White; Jet Black; Olive Green (400 optional colors/wraps)
Top Speed: 55 mph
Fuel economy: 32–34 mpg
MSRP: $16,599 (base model)
Editor's note: A version of this article first appeared in the August, 2020 print issue of American Survival Guide.