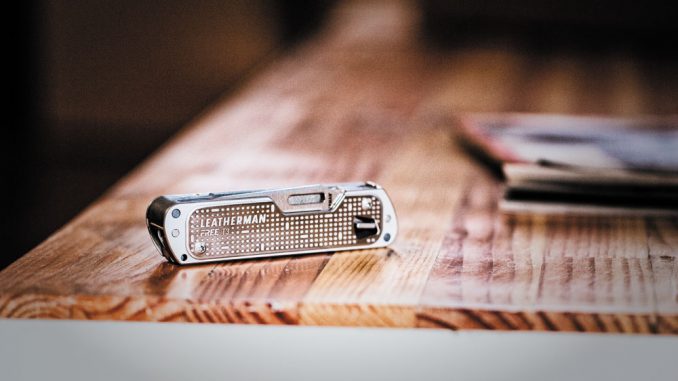 Leatherman's FREE Collection of Multipurpose Tools
A multi-tool that doesn't threaten to rip out your fingernails when you deploy one of its tools? You can go ahead and sign us up for that right now. If you've had a hard time opening up the tools in your multi-tool at one time or another, you're not alone. Perhaps the tools' tolerances were made too finely or its hinges were just tightened down a bit too tight. No matter the reason, a multi-tool that's tough to manipulate can end up leaving its owner frustrated and with chipped or split fingernails.
A New Way of Building Multi-tools
Aiming to solve that problem as well as others, the multi-tool brain trust at Leatherman set out to develop an entirely new line of multi-tools called FREE. The launch of the Leatherman FREE Collection is its most extensive in its storied 35-year history. So, yes, you can say it's a big deal. The Leatherman team took all the years of Leatherman users' insight and feedback as a foundation into the development of the FREE line. The new collection features multiple design patents and is American-made in Leatherman's own factory in Portland, Oregon.
"Tim Leatherman invented the multipurpose tool in his garage 35 years ago. Soon after, the 'Leatherman' tool became synonymous with the multi-tool category," said Ben Rivera, president and CEO of Leatherman Tool Group. "Over the past three and a half decades, we have empowered our customers around the world to solve problems and in many cases to save the day. Now, we are reinventing the category Tim created 35 years ago with the introduction of Leatherman FREE, a collection of tools that will take Leatherman and its users' experience to the next level."
Looking to create an easier-to-use multi-tool, the Leatherman design team implemented a first-of-its-kind magnetic architecture into the FREE collection. This cutting-edge technology integrates magnets into the design, making it easier for users to open, handle and close the tools all while eliminating the need for the nail torture associated with traditional multi-tools. Our fingers say thanks for that!
Other improvements include an internal locking system that reduces the wear and tear on individual implements, which makes the FREE tools even more durable than their predecessors. Understanding that touch is just as important as hearing and feel, the FREE tools are designed to also offer an enhanced sensory experience due to their smooth haptics, as well as the distinct 'click' each tool makes when an implement is locked into place and ready for use. Similar to typing on a keyboard that just sounds and feels right, the click heard and felt when locking a tool in place provides confidence in the tool's functionality, along with a satisfying feeling.
Each of the tools made on the FREE platform include access to all implements from the outside of the tool. No more flipping a bunch of tools open just to access that one you need. As emphasized earlier, FREE does not require fingernails to open any of its tools. Its proprietary magnetic architecture ensures smooth, frictionless deployment of the implements.
It also features a new locking system that drastically reduces friction coupled with new elastomer springs that make the collection of tools the most durable that Leatherman has ever produced. Purposely built-in haptic touch cues allow each tool to open and close seamlessly with a distinct accompanying sound, providing confirmation that the tool is open and ready for use without having to take your eyes off your work.
Aside from all of its functional innovations, tools in the FREE collection also feature a textured signature design that provides a distinct look that also offers an enhanced grip. We think the collection looks quite stylish too. The tools look perfectly at home in the pocket of a tailored suit as well as a full-grain leather bag.
The FREE Collection Includes 3 Series
The FREE line consists of three distinct series of tools, the P Series, T Series and K Series. Each line is designed for specific missions that take size requirements into consideration.
Tools in the FREE P Series are constructed of 420 steel. The P Series tools are pliers-based multipurpose tools that are light in weight and durable. The FREE P2 and P4 tools feature many of the same implements found within classic Leatherman tools, but with new features and technology.
The FREE T2 and T4 tools feature 8 to 10 tools in a convenient, packable size that makes the tools perfect for your everyday carry setup. The pocket-size tool features FREE's signature designs and functionality innovation.
Bringing FREE design elements to the knife world, the K Series is a collection of multipurpose knives. The K Series knives are designed for the folding-knife user who wants multipurpose functionality. The primary implement you'll find in the K2 and K4 knife collection is a 3.35-inch, high-quality 420 steel blade. The knives also contain additional tools located within their handles.
We're excited to see each of the innovations that Leatherman has developed for this entirely new line of multipurpose tools. Using real-world experience and user feedback, it looks like the company that invented the modern multi-tool has its ear to the ground and is constantly looking to improve their wares. Our time with several FREE tools has yielded nothing but compliments from its users, especially from their fingernails. EDC
Leatherman

FREE Collection
MSRP:
P Series starting at: $120
T Series starting at: $40
K Series starting at: $80
URL: Leatherman.com
Editor's note: A version of this article first appeared in the EDC Buyer's Guide Winter, 2020 print issue of American Survival Guide.