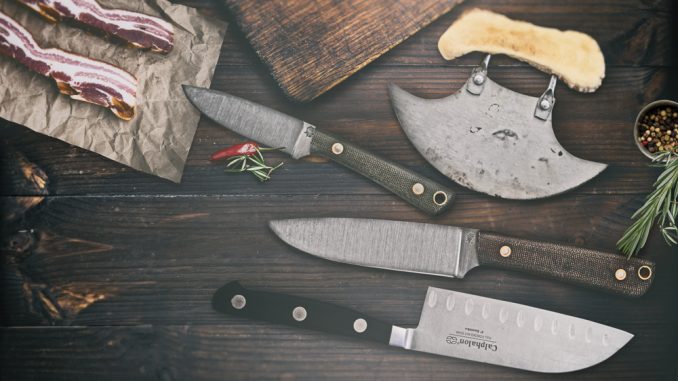 In the world of survivalism and prepping, we're always talking about bug-out bags, weapons and such. We also talk about finding food, whether it's via hunting, fishing or foraging.
What we don't often talk about is the proper preparation of the food that we work hard to gather, along with the tools we need to do it.
While the focus of this article will be on the knives I use in my "kitchen" (wherever that might be)—because good knives are a must—I'll also discuss other items that are good to have on hand.
Before I go any further, keep in mind that in a prepper/survival kitchen, things might not be the same as in a typical home kitchen (unless you happen to be lucky enough to be sheltering in place). For most of us, the gear for our kitchen needs to be like our other survival gear: It has to have multiple functions. And weight and the amount of space the gear takes up always have to be considered. What this means is that you won't be able to take everything you want.
Even so, with careful planning, you might be able to take what you need.
My Knives
My father always told me to use the very best tools available and, although he was talking about tools that kept the homestead running, I applied that mindset to the kitchen as well. To clarify, the "best" doesn't always translate to the "most expensive." "Best" means what works for you. Never put price above function. Over the years, my best knives were often the least expensive. In fact, one of my favorite kitchen knives was an inexpensive one given to me as a gift from my daughter many years ago. That knife eventually broke—because I pushed it—but it was a good knife.
In a well-stocked kitchen, it's very easy and common to have knives in every shape and size. But, let's face it: In a prepper/survival situation, you probably won't have optimum conditions. My setup revolves around four different blades: an ulu, a medium-sized, thick prep knife, a good paring knife and a medium-sized Santoku knife, which is good for chopping. With these four knives, I can handle most food prep situations while on the move or in a situation in which I don't have access to all the knives I have in my home kitchen.
Ulu
The ulu is an ancient blade originally used by the native people of the Arctic regions of the world. Its semi-circular blade and the location of the handle (right above the blade) make this knife easy to use and very effective for all sorts of food preparation. With just a flick of your wrist, a sharp ulu will make short work of everything from a roast to vegetables. I've used my ulu to make thin slices of duck breasts for jerky. It's also highly efficient at cutting vegetables.
My ulu was made for me by my friend, Mike Moore ("The Ulu Maker"), in Soldotna, Alaska. While the traditional ulu was made in various sizes, mine has a 5-inch blade. Mike is no longer making ulus due to health reasons, but there are many high-quality ulu makers in Alaska. If you're interested in purchasing an ulu, stay away from the tourist blades sold in every gift shop in Alaska. If you want a blade you can use and be proud of, locate a trusted knifemaker and get a real one. Expect to pay in the $50 to $100 range.
Prep Knife
A good prep knife is the ideal tool for deboning all sorts of meat, making thin slices and butterflying fish. There are many prep knives on the market at various price points and quality. My prep knife is the Large Pouter made by LT Wright Knives.
The Large Pouter measures 9 inches, with a sharpened edge of almost 5 inches. The blade is made from Austrian AEB-L high-carbon steel that's been sharpened to a razor's edge and features a flat grind. Mine has a green Micarta handle. This knife also comes with a blade guard and a soft case, both of which aid in overall safety.
Paring Knife
A paring knife has so many uses that I don't know how I could live without one. These small knives can do it all. I use mine to core wild apples, peel potatoes and make precise cuts in meat. I also use it to open food packages (such as MREs).
As with all kitchen knives, there are many paring knives on the market—some good and some not so much. My paring knife is the Small Pouter made by LT Wright Knives. Like the Large Pouter, the Small Pouter is made from Austrian AEB-L high-carbon steel. It has a flat grind and is extremely sharp. Its overall length is slightly under 7 inches, and it provides a 3-inch sharpened edge. Mine has a green Micarta handle. Like the Large Pouter, this knife comes with a soft case and a blade guard for safety.
Santoku Knife
I don't care what you're doing in the kitchen or where your kitchen is, you'll always need a good chopping knife. My prepper kitchen is not complete without a Santoku knife. In my case, it's a model with a 5-inch blade.
The modern Santoku is based on a Japanese design. It's made to slice, as well as chop. While I prefer to use a cleaver for chopping tasks, if you're on the move and weight is an issue, a cleaver might not be your best choice, because they tend to be rather heavy. Besides, if you're on the go, you need tools. I think of my knives as tools that can serve multiple functions. The Santoku fits the bill for me.
I happen to own and use a Calphalon 5-inch model. I use this blade to do everything from chopping and peeling hard-shelled winter squash and pumpkins to carving turkeys. The full tang of this knife and its high-quality, German high-carbon steel allow me to really chop hard when I have to.
Where to Purchase These Knives
"Where's the best place to purchase kitchen knives?"
That's a good question. I've purchased knives at department stores and specialty stores. If you go to a cooking specialty store, you're probably going to pay way too much for the same knife you might find in a department store. The simple question you need to ask yourself is, "Am I buying for the function or the name? If it's the latter, how much am I willing to pay for that name?"
When purchasing any knife, I first look for function (What do I plan on using the knife for?). I then look for quality (Will the knife stand up to the test of time? Will it hold up to what I expect it to do?).
Price is always last on the list of criteria, because I'd rather pay more now if that's what's necessary for a blade that will last.
I generally try to purchase directly from the people making the knives. While this isn't always possible—or practical—it's always worth a try. Not only can the knifemaker advise you on the best knife to use, but they might also ask a better price for the same knife you'll find in a store (due to the store's markup price). Don't overlook discount stores either. Some of the bigger knife manufacturers change their product designs year after year and place the old designs out on the shelves at discount prices. It's essentially the same knife, just not the newest model. That knife might be the one for you.
There's an old saying that "an army marches on its stomach." This saying can easily be applied to preparing for a survival situation. It isn't enough to simply find and gather food. Sometimes, it boils down to how you properly prepare that food for consumption and storage.
Good knives that keep an edge will go a long way to making a task successful.
My knives might not work for you; that's fine. However, more than the brands of knives I might use, focus instead on the types of knives I have in my survival kitchen.
Finally, always buy the best knives you can afford and that give you the confidence to accomplish a specific task.
Cutting Boards
It's a funny thing about cutting boards: No one gives them a second thought … until one is needed. If you're like me, the thing at the top of my list when prepping isn't a cutting board. So while it shouldn't be at the top of your list, it should be on there somewhere.
The great thing about cutting boards is that they're inexpensive, available anywhere and very easy to make if you don't have one. While most commercially made cutting boards are made from wood or food-grade plastic, any scrap piece of wood (except engineered and pressure-treated woods) can be used in a pinch. All wooden cutting boards, whether you purchase them or make them yourself, should be treated with vegetable oil. In addition, whether they're made from wood or plastic, all cutting boards need to be kept clean to prevent the spread of bacteria. If possible, use one cutting board for meat and a different one for vegetables.
Keep Them Sharp—and Clean
Even the best blades will dull over time. The trick to keeping your knives sharp and ready to go is to not let them get dull in the first place. Around my home, in my truck and in my pack, I have various sharpening stones, ceramic rods and steels that help me keep an edge on all my knives.
It only takes a few seconds to refine the edge on your blade—if you do it on a regular basis. A sharp knife will make your job much easier, more efficient and safer, so take the time to properly take care of your blades. Remember: A dull knife is a dangerous knife.
Always keep your knives clean. Many forms of bacteria are found in meat; some of them can kill you. Always wash your knives in hot, soapy water, and dry them thoroughly after use. This is especially true if you plan to use the same knife to cut meat and vegetables.
Smith's Pocket Pal X2
While I always carry a small whetstone in my pack, I also have a Smith's Pocket Pal X2. This tool is more than a sharpening device; it's a true survival tool. It includes two sharpening slots, a diamond sharpening rod, fire starter, whistle, compass and an LED light. Weighing only 3.5 ounces, it's perfect for EDC.
MSRP: $17.99
Smith's 3-in-1 Sharpening System
This is the sharpening system that stays in my prepper kitchen. Besides a diamond-enhanced sharpening stone, there are also ceramic rods that allow me to keep the edge of my knives extra sharp at all times. The 3-in-1 Sharpening System also allows you to sharpen and keep an edge on all your field knives. It even sharpens fish hooks.
MSRP: $21.99