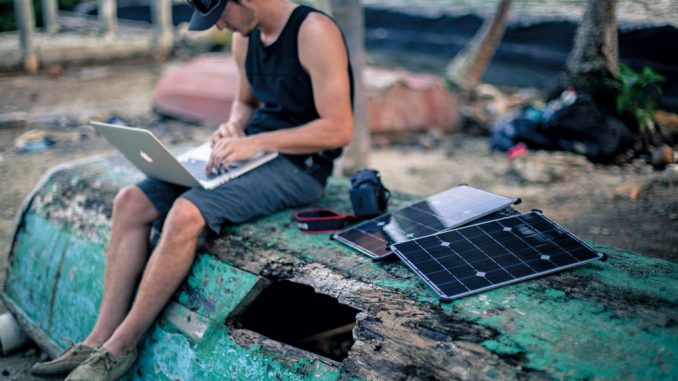 Solar-powered Gear That Improves Your Situation
A sunny day could mean much more to you than you might realize. Yes, the sun provides you with warmth, light and, in most situations, a rain-free experience while outside. But, when worst-case scenarios come knocking on your door, the sun can also aid in your survival.
Although this might sound over-dramatic, utilizing the sun's energy to help you through a crisis is a facet of your overall emergency plan that shouldn't be ignored. By harnessing the power of the sun, you can heat pre-packaged food that requires boiling water or cook raw meat on a solar stove.
In addition, solar-powered lights can help when you're traveling or signaling for help. The sun can keep a radio with an integrated solar cell functioning, enabling you to stay tuned for weather and emergency broadcasts.
But, most importantly, a solar cell or larger solar panel can keep small electronic devices operating when the electrical grid is down. Naturally, cell phones would be the most-needed tool for a plethora of purposes, but laptop computers, tablets and GPS devices all play important parts prior to, during and after a catastrophe hits home.
So, the next time you're adding to your emergency supply cache or packing your bug-out bag, don't forget to add items that make use of the limitless—and free—power source shining above.
Voltaic Generator Solar Laptop Charger
This laptop bag not only carries your precious electronic device safely, it also charges it while you're on the move! An oversized solar panel brings life back to "dead' electronics, including your cell phone, GPS and tablet. You do nothing more than stay within the sun's range. The case, itself, is built tough, yet it's soft enough inside to keep valuable tech items damage free.
Specifications
Solar panel: 17.6 watts; 18.9 volts; .093 amp
Padded interior holds up to a 17-inch laptop
Front mesh pockets hold charging accessories and small items
Recycled PET outer fabric is waterproof and UV resistant
Available in silver or black
MSRP: $299
BioLite SolarPanel 10+
With BioLite's optimal sun system, your cell phone can easily be charged from the sun. This unit features an integrated sundial that aligns the device perfectly to optimize charging, while the versatile kickstand offers stability, even on most uneven surfaces. Best of all, its integrated, onboard 3000mAh battery stores power for a "rainy" day if the need arises. Don't get caught with a dead phone again!
Specifications
10 watts of usable power via USB output port
Optimal sun system utilizes a 360-degree stand
Battery and charge strength indicator assist to measure panel capacity
Easy alignment to capture direct rays for maximum charging
Corner latches attach to backpacks for on-the-go charging
MSRP: $139.95
BioLiteEnergy.com
Luci EMRG Inflatable Solar Light
Pocket-sized, lightweight, durable and needing only sunlight to power its LED lights—that's the type of lantern everyone needs! Whether you use it during emergencies or on a weekend campout, this amazing solar lantern will illuminate your tasks at hand or the path ahead. It's waterproof and collapses down for easy storage and carrying when not in use.
Specifications
Provides light for up to 7 hours
Charges in 8 hours
Durable design withstands up to 150 pounds of pressure
Two-second, quick shutoff
Operating temperature: 32–113 degrees (F)
MSRP: $17.95
MPowerd.com
Sun SolarPanel 30+
Laptops and cell phones can lose their "juice" at the worst times. Prevent your work from being interrupted as you type away outside with the SolarFlex 30. This foldable, ultra-thin solar panel plugs directly into your electronics using a USB cord. Within a short time, your battery bar will be full, and you'll be good to go for hours. Let the sun work for you and your valuable electronic gear.
Specifications
Power output: 30 watts
Unfolded dimensions: 29 x 14 x 0.02 inches
Weight: 3 pounds
Charges devices as fast as standard wall chargers
Includes storage pouch for carrying the cable
MSRP: $199 
GoSun Chill Cooler with SolarPanel 30+ 
Imagine a cooler that doesn't need ice to keep food and drinks cold. This cooler and its 30-watt solar panel work together to keep your food or medication chilled using only the sun as its free and replenishable power source. It's ideal for off-grid use, emergency backup or when you're enjoying the outdoors in warm environments. As an added bonus, the included solar panel will also keep your phones, laptops and GPS devices charged.
Specifications
Stays cool for up to 14 hours in 80 degree (F) temps
Insulated, durable outer cooler shell
Use throughout the day and overnight
PowerBank+ has 3 USB ports and a 200-lumen light
Total weight: 33 pounds
MSRP: $949
Biolite SolarHome 620 
Any small structure can enjoy some electric conveniences with the SolarHome 620. This complete set of solar-powered gear includes overhead lighting, a radio, MP3 player and a control box with charging ports for small electronic devices. The included solar panel mounts easily on the roof and draws the powerful rays of the sun to bring everything to "life." All the items are easy to install, and the set comes complete with cables and hardware.
Specifications
6-watt panel connects to 20 Wh control box
Control box with integrated radio and USB charging ports
Includes 3 overhead lights, 1 with motion sensor
18-foot, daisy-chainable cables for multi-room lighting
Ideal for sheds, vans, tents, etc.
MSRP: $149.95 
Crane Observer Radio 

Even in today's digital age, a reliable radio is a must when disaster strikes. This AM/FM radio offers many useful features, including solar-powered charging, an integrated flashlight, headphone jack and seven weather bands to stay abreast of ever-changing conditions. A large front speaker offers clear sound, while the adjustable antenna optimizes reception. Every emergency kit needs a radio, so choose this one for reliable, multi-function use.
Specifications
AM/FM and Weather Band reception
Solar panel: 20–40mA DC (depending on sunlight intensity)
Fully charged under direct sunlight in 20 hours
15–20 hours of continuous use on full charge
Weight: 1.5 pounds
MSRP: $59.99
CCrane.com
Voltaic Fuse Solar Laptop Charger
Need your camera, laptop, tablet and other USB devices juiced up and ready during your next adventure? Then, this solar charger will work for you. Easily attachable to backpacks via its Fuse attachment system, it lets the sun do the work as you traverse sunny trails. It works with nearly all laptops (MacBooks require an optional adapter). Charging times for the solar panel range from 2 to 14 hours, depending upon the device, as well as the intensity of the sun.
Specifications
Holds up to a 13-inch laptop in padded sleeve
24,000mAh USB-PD laptop battery
Recycled PET fabric
Easily attaches to backpacks and panniers
Adjustable straps with integrated MOLLE attachment system
MSRP: $229
VoltaicSystems.com
Voltaic Converter Solar Backpack

Stylish and ultra-modern, this solar backpack keeps your phone and laptop charged while you travel about. Its streamlined design features a prominent solar cell on the outside and plenty of room and pockets for storage on the inside. A breathable mesh shoulder harness and high-density, molded back section provide comfort for all-day, fatigue-free use.
Specifications
Capacity: 4,000mAh; 15 watt hours
20L main compartment with easy-access interior mesh pockets
Includes USB battery pack and micro USB charging cable
Padded, 15-inch laptop/tablet sleeve
Waterproof, UV-resistant ETFE coating
MSRP: $129
VoltaicSystems.com
Kaito Multi-Functional Solar Lantern 
Don't overlook this important piece of emergency gear! When a crisis hits, stay up to date with news, weather reports and a bright light that illuminates even the darkest nights. No power? No problem. The sun will charge your multi-functional lantern. Included as well are a hand crank, USB power input and external battery options. Because of its durable plastic shell and easy-carry handle, it's built to last. Pack this must-have survival item in your gear bag or emergency preparation kit. The unit features a micro USB, standard USB and rechargeable batteries.
Specifications
8 LEDs offer 2 levels of illumination
USB port charges cell phone or other USB devices
Integrated internal speaker
7 NOAA weather channels
Dimensions: 8.25 x 4.25 x 4.25 inches
MSRP: $29.95
KaitoRadio.com
Voltaic Arc 10W Solar Charger
What's the "trifecta" of portable solar power? Well, the device should be affordable, easy to operate and offer high durability while out in the field. Voltaic Arc's dual Solar Charger quickly brings all your USB devices up to full power under the sunshine. Whether you prefer Apple- or Android-based electronics, this unit charges them all. The 10-watt charger is ideal for day hikes, picnicking or emergency backup.
Specifications
Durable and UV-resistant ETFE-coated solar panel
Panels fold for easy storage
Regulated USB port allows charging of devices directly from solar panel
It charges, even on low-sunlight days
Can charge smartphones, tablets, cameras and other USB devices
MSRP: $39
VoltaicSystems.com
Solo Scientific Tinder Hot Box Solar Fire Starter
This pocket-sized parabolic reflector ignites tinder fast and easily by redirecting the sun's rays onto the elevated piece of dry tinder. This innovative design employs no moving parts, no flint, no gases, no batteries—nothing else besides the sun's power. Tinder can be stored in the watertight portion of the container, and the lid can be used as a signal mirror. No gear bag should be without this useful survival tool.
Specifications
Internal storage compartment keeps tinder dry
Overall dimensions: 2.65 x 0.725 inches
Machined from aircraft aluminum
Fits easily in pocket, pack or glove box
Quick fire-starting under direct sunlight
MSRP: $39.95
SoloScientific.com
Wazoo Burnable Business Card with Fresnel Lens
This credit card-sized combo includes thin sheets of birch wood and a Fresnel lens to help create fire on the spot. Just focus the sun's rays through the lens and ignite any dry tinder under the assembly. You'll soon have a small blaze that's ready for additional kindling and larger logs. The Fresnel lens can be carried in your wallet or pocket and can be used without the need of anything other than some tinder and sunshine.
Specifications
Perforated wood card breaks into seven pieces
Pieces interlock to create kindling fire lay
Reusable Fresnel lens also usable as 3X magnifier
Vinyl carrying case fits easily inside most wallets
MSRP: $5
WazooSurvivalGear.com
Suaoki 60W Foldable Dual Port Solar Charger 
This foldout solar panel provides enough power for charging two devices: one for USB charging and one for DC output. It offers fast charging, smart charging and speed-up charging. Use it for your car, cell phone, GPS, laptop or tablet. Whether you're sunning by the pool, laying on the beach or camped out during a blackout, this unit will help charge all your small electronic gear for dependable use.
Specifications
Max charging port output: 18V/3.4A (DC); 5V/2.1A (USB)
Deployed size: 64.57 x 11.42 x 0.08 inches
Stowed size: 11.42 x 6.30 x 6 inches
Monocrystalline solar panels increase conversion efficiency
Weight: 3.1 pounds
MSRP: $140.18
GoSun Ultimate Fusion Bundle 
When the grid is down or you're far from modern utilities, this cooker/charging combo will be an absolute lifesaver. The solar oven heats to an amazing 550 degrees (F)—more than enough heat to cook just about anything you have, find or catch. The included solar panel keeps cellphones and other USB devices topped off with needed power. Cook while listening to music or watching a video—and never be out of power.
Specifications
Complete cooking and charging system
Powerbank offers 3 USB ports
Oven cooks enough food per meal for up to six people
Includes carrying bag for convenient transport
MSRP: $949
SunFlair Deluxe Solar Oven Kit
This kit offers solar-powered cooking for the entire family. Utilizing only the intense rays of the sun for power, a meal will be on the table in no time flat. It features an innovative, soft and flexible design. The included cooking accessories—pots, a roaster pan, baking trays and dehydrating racks—only add to this unit's user-friendly style. The oven's solar thermometer helps anyone become the perfect off-grid chef!
Specifications
State-of-the-art, closed-cell insulation
Oven reaches temperatures of 285 degrees (F)
Includes roaster, pots, trays, racks and carry bag
Folds down flat to 2 x 15.5 x 19 inches
Weight is just 18 ounces
MSRP: $164.99
Suaoki Solar Panel Camping LED Lantern
This uniquely designed solar lantern offers bright illumination at home, at your campsite or anywhere you need instant light. The "accordion" design allows this compactable unit to fit nearly anywhere. Once charged, this device can charge your phone when the grid falls and you're left with no power. This is a must-have item to include in every family member's gear or emergency bag.
Specifications
Lightweight, durable and easy to carry
Portable, compact, collapsible design
Provides three lighting modes: low, high and SOS
Use as a flashlight, lantern or power bank
Charges via built-in solar panel or USB input
MSRP: $16.99
Editor's Note: A version of this article first appeared in the July 2020 print issue of American Survival Guide.