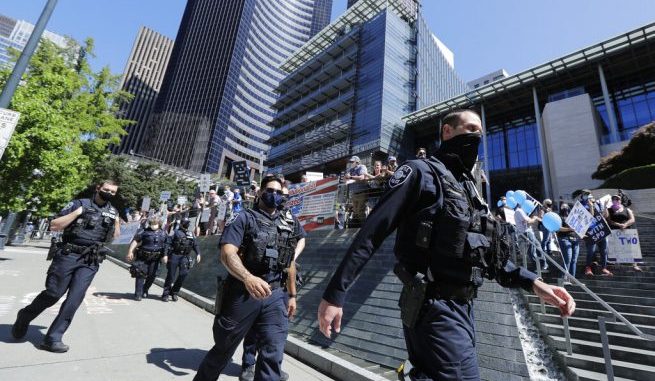 OAN Newsroom
UPDATED 8:10 AM PT – Monday, October 5, 2020
The situation remains tense between Washington State police and residents as protests continue across the state.
The Seattle Police Department clashed with protesters on Saturday while breaking up a demonstration that turned violent. 16 people were arrested for destruction of property, assault and failure to disperse.
16 arrested during Saturday night protests. https://t.co/aRjditFb3d

— Seattle Police Dept. (@SeattlePD) October 4, 2020
Protesters gathered earlier that day and were mostly quiet before a group left Cal Anderson Park that evening and began marching. According to police, some people started vandalizing buildings and property by shattering windows and spraying graffiti.
.@SeattlePD moves in on Antifa militants as they form a shielded line. I have counted 9 orders to disperse. #seattleprotests pic.twitter.com/sxe4xOwqrK

— Katie Daviscourt?? (@KatieDaviscourt) October 4, 2020
Police said people then threw explosive devices inside the buildings and at officers, prompting them to issue a dispersal order and make arrests.
Seattle has seen a number of protests in recent weeks condemning police for their handling of demonstrations. This all came after city officials rejected claims that police have violated court orders by using anti-riot munitions to disperse violent crowds.