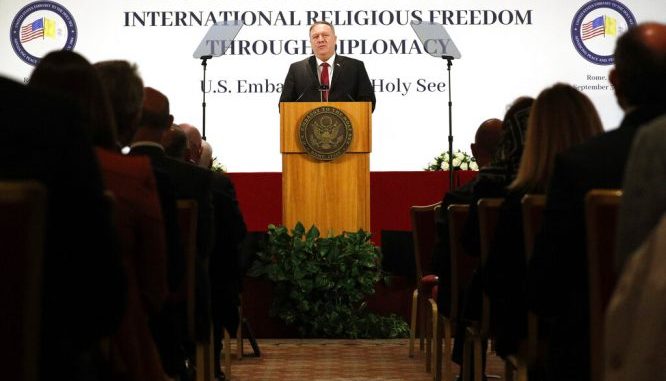 OAN Newsroom
UPDATED 8:28 AM PT – Wednesday, September 30, 2020
Secretary of State Mike Pompeo visited Italy to discuss the defense of international religious freedom. He delivered remarks during the Holy See Symposium at the U.S. Embassy Wednesday.
While addressing those in attendance, the secretary called on all leaders of faith to confront religious persecution, especially in Iraq, North Korea and Cuba.
Pompeo went on to urge the Vatican, once again, to scrap its two-year bilateral pact with China and warned about the looming communist threat.
"Nowhere is religious freedom under assault more than it is inside of China today," he stated. "That's because as with all communist regimes, the Chinese Communist Party deems itself the ultimate moral authority and the increasingly repressive CCP (Chinese Communist Party), frightened by its own lack of democratic legitimacy, works day and night to snuff out the lamp of freedom, especially religious freedom, on a horrifying scale."
Honored to participate in @USinHolySee's Advancing and Defending International Religious Freedom Through Diplomacy symposium. The Vatican is a vital partner in defending this unalienable right in places where it is under threat. pic.twitter.com/LTcroYr9HQ

— Secretary Pompeo (@SecPompeo) September 30, 2020
Pompeo is set to speak with his Italian counterpart at the Vatican on Thursday.