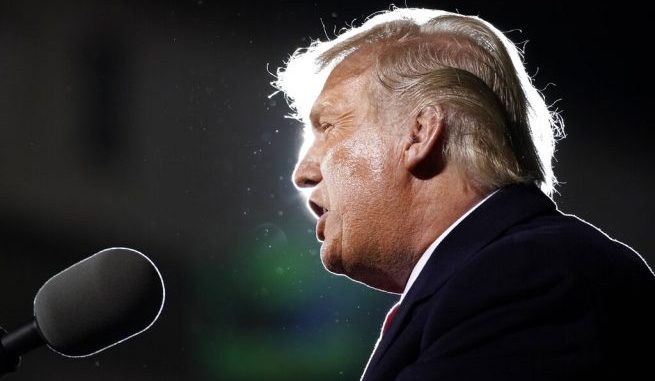 OAN Newsroom
UPDATED 6:37 AM PT – Thursday, October 1, 2020
President Trump continued to rally with his supporters across the United States in Minnesota on Wednesday night as part of his Make America Great Again campaign.
The Commander-in-Chief spoke on a number topics from highlighting his recent victory against Democrat nominee Joe Biden in the first presidential debate to slamming the mainstream media for their biased and corrupt reporting.
President Trump also accused liberal media outlets of going soft on Biden while he's been defending American values from socialist ideology.
"Liberal media — it's upset that I took the fight to Biden and exposed is very dangerous agenda," he stated. "I'm not just running against Joe Biden, I'm running against the corrupt far-left media, socialists and communists in the Democratic Party."
In just 3 and a half years, we have secured America's Borders, rebuilt the awesome power of the U.S. Military, obliterated the ISIS caliphate, fixed our disastrous Trade Deals, and brought JOBS back home to America – and back to MINNESOTA! #MAGA pic.twitter.com/nX2oU5IWL0

— Donald J. Trump (@realDonaldTrump) October 1, 2020
While talking about his performance during the first presidential debate, President Trump said he was able to hold his own while on the stage despite debating not just Biden, but also moderator Chris Wallace while up at podium. He also said Biden is too weak to lead as shown by some of his Democrat supporters urging him to drop out from the next debates.
"Last night, I did what the corrupt media refused to do: I held Joe Biden accountable to his 47 years of lies, 47 years of betrayal, 47 years of failure," the President told the crowd. "I held Joe accountable for shipping your jobs and dreams abroad, and for bowing to the violent mob at home."
PresidentTrump then urged for Americans to make sure they vote in November and highlighted the importance of working class citizens in the Bread and Butter State. Minnesota hasn't been won by a Republican since 1972, however, the President has expressed confidence he can switch the state back to red.
Thank you Duluth, Minnesota! https://t.co/OY9Ki05WHb

— Donald J. Trump (@realDonaldTrump) October 1, 2020