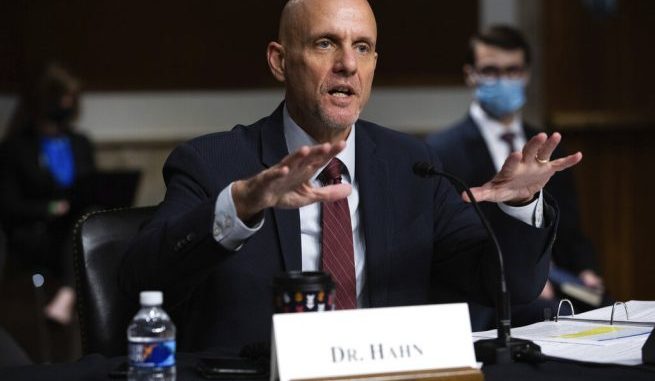 OAN Newsroom
UPDATED 8:16 AM PT – Thursday, September 24, 2020
Top health officials with the Trump administration said they are using science to inform their response to the coronavirus, not politics.
On Wednesday, FDA Commissioner Dr. Stephen Hahn, NIH head Anthony Fauci and CDC Director Dr. Robert Redfield were called to testify before the Senate Health, Education, Labor and Pensions Committee.
During the hearing, Dr. Hahn addressed the development of a coronavirus vaccine and said any potential vaccine would undergo a rigorous review process before being approved by the FDA. He also said the agency will not push-out the vaccine because of political pressure.
"Decisions to authorize or approve any such vaccine or therapeutic will be made by the dedicated career staff at FDA through our thorough review processes and science will guide our decisions," Dr. Hahn stated. "FDA will not permit any pressure from anyone to change that."
Meanwhile, Dr. Redfield said the CDC is currently testing how widespread the coronavirus is across the country. He said the vast majority of people are still at risk of catching the virus.
"CDC is in the process of a very large, sequential study across the entire United States measuring serology," explained the CDC director. "As I mentioned, the preliminary results in the first-round show that a majority of our nation, more than 90% of the population, remains susceptible."
Dr. Redfield projects the CDC will have 700 million doses of the vaccine ready by March or April of next year. That prediction was echoed by Dr. Fauci who said experts should know by December whether a vaccine is effective or not.
"I'll close with the comment that we we feel strongly that if we have a combination of adherence to the public health measures, together with a vaccine that will be distributed to people in this country and worldwide, we may be able to turn around this terrible pandemic that which we have been experiencing," Dr. Fauci stated.
Officials have stressed the vaccine likely won't be 100-percent effective and Americans would still be encouraged to practice social distancing measures for months after it is made available.