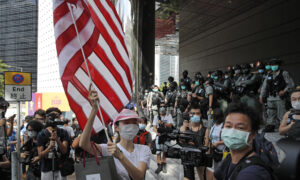 China in Focus (April 20): Asylum Seeker: 'I Love Hong Kong But Had to Leave'
A Hong Kong family seeks asylum in the United States. The longing for freedom pushed them to flee their home in search of a better life without suppression.
A U.S. resolution condemns Beijing for suppressing freedom in Hong Kong. It comes just days after nine prominent pro-democracy figures were sentenced there.
A human rights lawyer known as "China's conscience" has been missing for over three years. Now his wife worries he may have already been murdered by the Chinese communist regime.
Japan and China are accusing each other of releasing nuclear wastewater into the sea.
Another alliance counters Beijing's threat. The United States and Japan are investing billions of dollars into 6G networks, in hopes of defeating Chinese telecom company Huawei.
Subscribe to our YouTube channel for more first-hand news from China.
For more news and videos, please visit our website and Twitter.