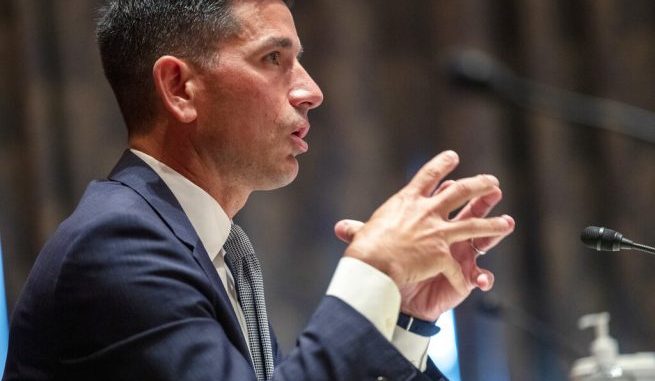 OAN Newsroom
UPDATED 6:58 AM PT – Thursday, September 24, 2020
President Trump's nominee to lead the Department of Homeland Security (DHS) has denied allegations that he shaped intelligence reports to better suit the administration.
During a confirmation hearing Wednesday, Acting Secretary Chad Wolf said the recent whistleblower complaint by DHS official Brian Murphy was false.
"It's a fabrication, completely," Wolf stated. "I reject any claim that I attempted to influence or retaliate against any individual at DHS, but specifically Mr. Murphy."
The complaint, which was filed Tuesday with the department's inspector general, accuses Wolf of telling Murphy to withhold reports on any potential threats to the election, particularly those from China and Russia. Wolf allegedly told Murphy doing so would make the President look bad.
As we get closer to election day, I discussed @DHSgov efforts ensure the integrity of our elections with @DHS_WOLF at today's HSGAC hearing. pic.twitter.com/dTV3GHvAyN

— Rob Portman (@senrobportman) September 23, 2020
Wolf was also questioned about allegedly restricting access to an intelligence bulletin that warned law enforcement agencies about Russia's alleged attempts to spread disinformation about Joe Biden's mental health. Wolf claimed he had put a hold on the two-page document back in July in order to add more context.
"I outlined my concerns not with the underlying intelligence, the intelligence I agreed with," he stated. "The intelligence has been backed up from the IC (Intelligence Community) and others."
When asked why it took him so long, Wolf blamed the repercussions of Murphy's recent removal.
Although the hearing is set to continue, it remains unclear whether the Senate Committee will have enough time to confirm Wolf before the November election.
.@tedcruz: Acting DHS Secretary Chad Wolf "was not cowed by political pressure…he was not willing simply to hand the courthouse over to the mob and allow them to burn the courthouse to the ground"https://t.co/80fZep2WaI pic.twitter.com/tdoC34pgsp

— RNC Research (@RNCResearch) September 23, 2020