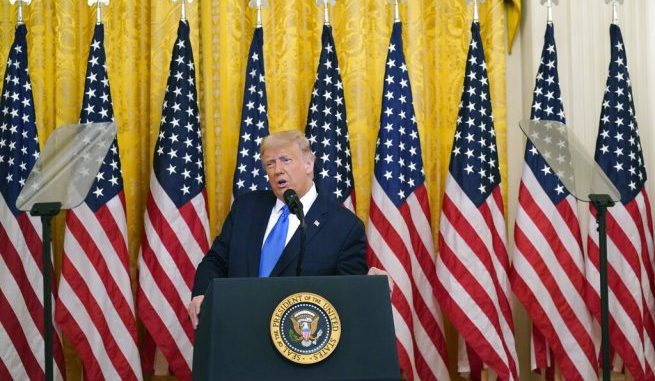 OAN Newsroom
UPDATED 9:40 AM PT – Wednesday, September 23, 2020
According to President Trump, the very survival of the American economy is at stake this election. During his "Great American Comeback" event at Pittsburgh International Airport this week, the President vowed to continue working on behalf of everyday Americans.
"42 days from now, we're going to win Pennsylvania and we're going to win four more years in the White House," he stated. "With your vote, we're going to lift our nation to extraordinary new heights, we're going to turn the page forever on the failed political class, …we're going to defend our jobs, our families, our borders and our treasured way of life."
The President also stressed how crucial the result of the November election will be in determining which path the country takes in the future. He has said the way forward could be characterized by increasing prosperity or one dominated by economic decline amid far left policies.
He pointed to the booming economy enjoyed by the country prior to the outbreak of COVID-19. During the pandemic, the President noted more than 6 million people were lifted out of poverty.
"This is the most important election in the history of our country, and this election is a matter of economic survival for Pennsylvania," he added. "You had the greatest year you've ever had last year, and you're really on your way."
President Trump asserted his administration will continue to focus its efforts on fully reopening the country. If he secures a victory in November, he reaffirmed businesses would be "opening on November 4th."
He also commented on the wide disparity between Republican and Democrat approaches to the energy sector, which is a vital industry in Pennsylvania. According to the President, a Democrat victory could spell the end of that industry and the loss of the countless jobs that depend on it.
"Your security and your jobs are in very grave peril because the radical left maniacs don't want to have anything to do with energy," stated President Trump. "…They have the Green New Deal, where there will be no energy, almost of any kind."
Pennsylvania is widely seen by analysts as a key battleground state. It was vital in securing President Trump's 2016 victory, when he won the state by 44,000 votes and turned the Keystone State red for the first time since 1988.