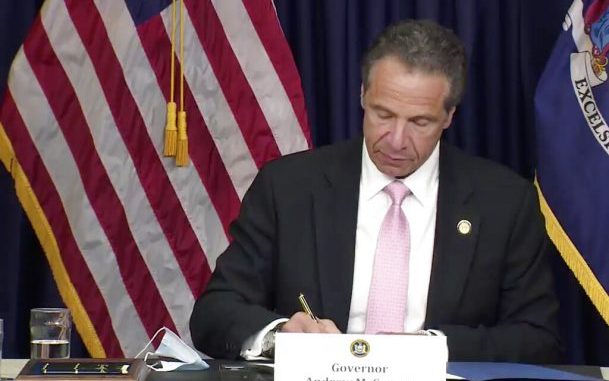 OAN Newsroom
UPDATED 2:35 PM PT — Friday, June 12, 2020
New York Governor Andrew Cuomo has threatened legislative action in hopes of forcing local governments to take action to reform their police departments. On Friday, Cuomo announced he would sign an executive order mandating municipalities "reinvent and modernize" their departments by the end of April 2021.
Failure to do so would make these local governments ineligible for state funding. Around 500 police departments will likely be affected.
Honored @TheRevAl could be with us on this historic day.

We signed into law landmark police reform and created a new system by Executive Order requiring local police to reform & modernize with input from the communities they serve.

And we made it clear: No reform – No funding. pic.twitter.com/FGW09P8jzu

— Andrew Cuomo (@NYGovCuomo) June 12, 2020
According to the governor, linking funds to "systemic reform" is the only way to achieve dramatic results.
"There is no trust, there is a breach of the trust, and that has to be restored and repaired," he stated. "The only way to do it is to get in a room, get to the table, let everyone say their piece and figure it out community by community, all across this state."
I just signed into law nation-leading legislation that:

-Ends 50-A
-Bans chokeholds
-Prohibits false race-based 911 calls
-Makes Attorney General the independent prosecutor in killings of unarmed civilians by police

There is more to do & NY will lead the way. pic.twitter.com/i4MUKe37IY

— Andrew Cuomo (@NYGovCuomo) June 12, 2020
Cuomo also signed a bill earlier in the day, which repealed a decades-old law shielding a police officer's disciplinary record from the public.
MORE NEWS: N.Y. Gov. Cuomo Denies Apologizing To NYPD