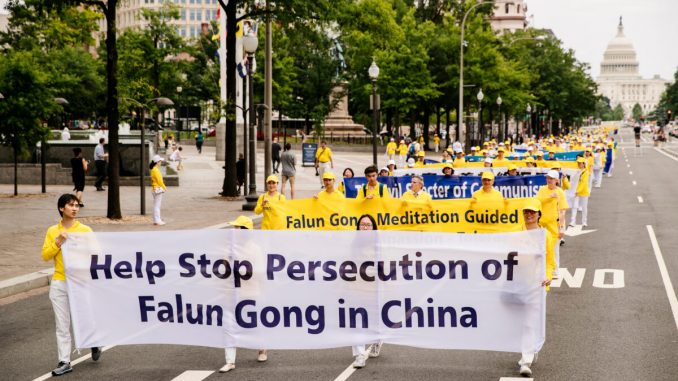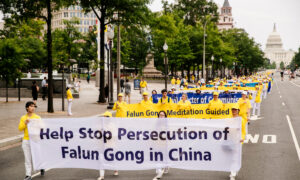 The U.S. State Department on May 13 highlighted the ongoing persecution of Falun Gong practitioners at the hands of the Chinese communist regime.
"On World Falun Dafa Day, we recognize the countless Falun Gong practitioners the PRC [People's Republic of China] harasses & abuses simply for their beliefs," the department's Office of International Religious Freedom wrote in a tweet on Wednesday.
The message came a day after U.S. Secretary of State Antony Blinken announced sanctions against Yu Hui, a Chinese official, over his involvement in the arbitrary detention of Falun Gong adherents. A Chinese police chief was similarly sanctioned by the United States in December.
Adherents of Falun Gong, also known as Falun Dafa, have been victims of a sweeping campaign of repression by the Chinese Communist Party (CCP) for more than two decades. The practice, which includes meditative exercises and a set of moral teachings centered around the tenets "truthfulness, compassion, and forbearance," gained traction in China during the 1990s with up to 100 million learning the discipline by the end of the decade, according to official estimates at the time. Deeming this popularity a threat to its totalitarian control, the CCP launched a fierce crackdown in an attempt to eliminate the practice in July 1999.
Since then, millions of practitioners have been detained in prisons, detention centers, and other facilities, while hundreds of thousands have suffered torture in a bid to have them give up their faith, according to the Falun Dafa Information Center. Detained practitioners have also been killed for their organs to supply the lucrative transplant market. Those that are not detained are subject to heavy surveillance and harassment.
In 2020, more than 15,000 adherents experienced arrests or harassment, with more than 600 people sentenced to jail, according to Minghui, a U.S.-based website that serves as a clearinghouse for the persecution in China. The oldest person among those who were sentenced was 88. While Minghui has verified more than 4,000 deaths as a result of the persecution, the true number is likely to many times greater due to the CCP's efforts to suppress information about its abuses.
Several U.S. lawmakers, at the federal and state level, as well as governors, also voiced support for Falun Gong adherents on World Falun Dafa Day on May 13—a day celebrated by practitioners around the world.
"I am writing to recognize this important day in our community," wrote U.S. Rep. Robert Wittman (R-Va.) in a letter. "On this day, we remember the religious persecution that began in 1999 and those who continue to choose to stand up against it with non-violent resistance."
Eva Fu and Frank Fang contributed to this report.