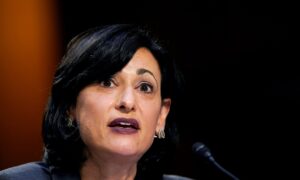 People who are fully vaccinated against the virus that causes COVID-19 rarely contract the illness and when they do, it's typically a no or low-symptom case, the director of the Centers for Disease Control and Prevention says.
"For those breakthrough infections that can you know rarely occur, for the most part they are resulting in asymptomatic or very mild disease," Dr. Rochelle Walensky, the CDC's director, said on MSNBC's "The Rachel Maddow Show."
"What we're seeing about those infections is that they tend to have a lower amount of virus, they tend to be asymptomatic, they tend to be mild. And we believe that that lower amount of virus really means that they can't give it to anybody else," Walensky added on CBS' "This Morning" on Friday.
Newly published studies show that people who are fully vaccinated can feel comfortable removing their masks, Walensky emphasized.
Maddow, a liberal host, told Walensky that some of her staffers were uncomfortable removing a mask even if they had received a COVID-19 vaccine because of concerns that people with them may have not gotten a jab.
COVID-19 is caused by the CCP (Chinese Communist Party) virus.
Approximately 119 million Americans, or nearly 36 percent of the population, have been fully vaccinated as of May 13, including over 70 percent of the vulnerable 65-and-old population.
At least 9,245 Americans have tested positive for COVID-19 at least two weeks after their final shot, according to the CDC, which has not released breakthrough case figures since April 3o.
The CDC earlier Thursday said fully vaccinated people largely can stop wearing masks indoors.
"What we're really doing is empowering individuals to make decisions about their own health. So if you are vaccinated and you are making the decision to take off your mask, then you've made the decision to get vaccinated and you're safe. If you are unvaccinated, then you have made the decision to take that risk. And we are really encouraging people who are unvaccinated not to take the risk. People who are unvaccinated should not be taking off their masks. And we're really encouraging them to get vaccinated as soon as possible. But if you have several people in the room, and some are vaccinated, and some are not, and they've all chosen to take off their masks, it's the vaccinated people who will be protected," Walensky said.
The CDC can only recommend mask rules but the agency's guidance is closely hewed to in a number of states and locales.
The updated guidance has not yet made its way onto the CDC's website, which still says people should wear masks indoors around anybody who doesn't live with them.
People who are immune-compromised, such as people who are on chemotherapy or dialysis, should consider continuing to wear masks in nearly all settings, according to Walensky.
"We've been saying wear a mask. And so it's been ingrained in us, 'you can't leave the house without a mask.' I went for a walk for the first time without a mask outside a week ago. And that felt strange, right? So I think we all are going to have to become comfortable with this again," she told Maddow."But what we're saying is now is time to make those efforts to start getting comfortable."