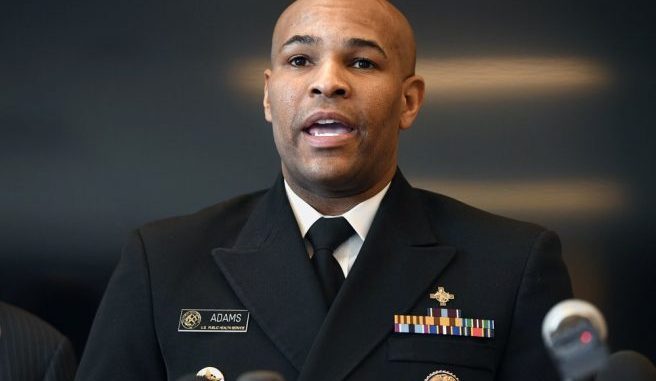 OAN Newsroom
UPDATED 12:10 PM PT – Wednesday, September 23, 2020
U.S. Surgeon General Jerome Adams has urged Americans to follow public health measures whenever possible amid the ongoing pandemic. On Wednesday, he discussed the importance of wearing a mask, maintaining social distancing and washing your hands often.
Adams stated he believes Americans are hesitant about a coronavirus vaccine because the issue has become so politicized.
When asked about the debate between Democrats and Republicans over large gatherings, he said the virus doesn't care who you're voting for in the upcoming election.
"The virus doesn't care about your politics, it doesn't care what you're going out for, it only cares whether or not you're following public health measures," said Adams. "So what I would say to everyone, politics aside, wear a mask if you can't stay more than six feet from other people, watch your distance and make sure you're washing your hands as frequently as you can."
U.S. Surgeon General on Pres. Trump's packed campaign rallies as the coronavirus crisis as the death toll tops 200,000: "The virus doesn't care about your politics."
@Surgeon_General@GStephanopouloshttps://t.co/3DjPiVb0zF pic.twitter.com/FkNCWFbU0D

— Good Morning America (@GMA) September 23, 2020
As we head into fall, he emphasized it is crucial Americans get flu shots to remain healthy and avoid a "double whammy" of sicknesses.
"The way we all come out of this is by doing our part," he added.