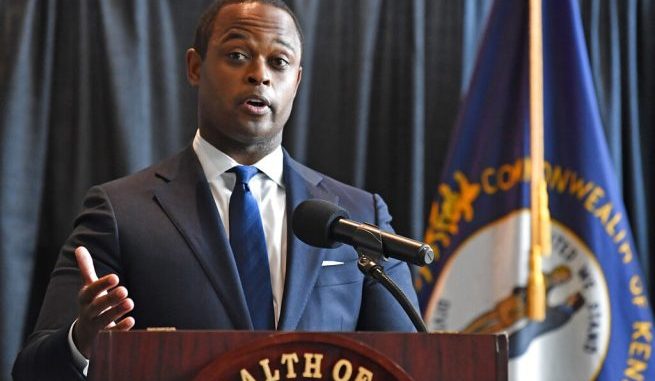 OAN Newsroom
UPDATED 3:20 PM PT – Wednesday, September 23, 2020
On Wednesday, Kentucky Attorney General Daniel Cameron announced charges against one of the officers involved in the Breonna Taylor case. Former Louisville Police Sergeant Brett Hankison has been charged with three counts of first-degree wanton endangerment for accidentally shooting into the apartment next door during the altercation.
According to Cameron, the warrant served by officers was not a no-knock warrant. Officers announced themselves and entered after no one came to the door.
The attorney general explained Taylor's boyfriend, Kenneth Walker, fired at officers as they entered. Three of the officers then returned fire.
Cameron reiterated officers' use of force was justified under Kentucky law, as they were protecting themselves after being fired upon. He went on to announce a new task force will be established to prevent these incidents in the future.
"When tragedy occurs, we must mourn (and) we must also do everything we can to prevent it from happening again," he said. "Today, consistent with that view, I'm announcing that I will create a task force to review the process for securing, reviewing and executing search warrants in Kentucky."
In the meantime, protests have started up in Louisville, Kentucky. Angry demonstrators have demanded that the police officers involved face a harsher punishment.
The city's mayor issued a curfew for 9 p.m. local time and declared a state of emergency prior to the announcement "due to the potential for civil unrest."
Our goal is ensuring space and opportunity for potential protesters to gather and express their First Amendment rights after the announcement. At the same time, we are preparing for any eventuality to keep everyone safe. https://t.co/cRRrpzDSgj 1/2

— Mayor Greg Fischer (@louisvillemayor) September 22, 2020