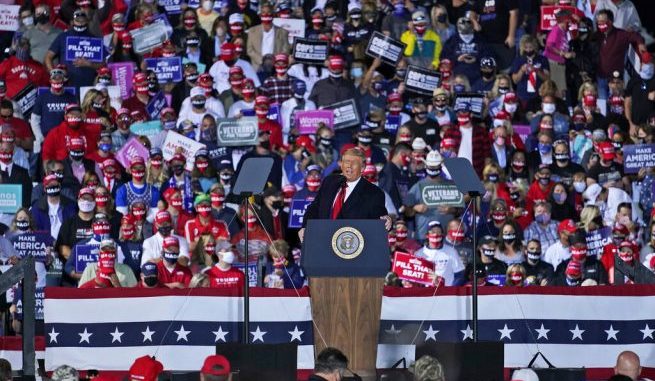 OAN Newsroom
UPDATED 7:29 AM PT – Tuesday, September 22, 2020
While the Justice Department focused on the violation of city ordinances and local law on Monday, the President shifted his focus to his constitutional responsibilities as dictated by the highest law of the land.
"As our nation mourns the loss of Supreme Court Justice Ruth Bader Ginsburg, I will soon announce a nominee for the United States Supreme Court," President Trump announced. "They say it's the most important thing a president can do."
He's expected announce his nomination on Saturday. The President noted he's looking at five "incredible people."
While taking a step away from campaigning, President Trump assured the crowd in Swanton he would not let the frustration of the left impact his work as president.
"Now they want to impeach me, again, if I nominate somebody as I'm constitutionally obligated to do on the Supreme Court of the United States," he explained. "Go ahead…I want them to do that."
The President won over voters in 2016 by promising to do the best thing for Americans to make America great again despite backlash from his opposition. He took a moment during his speech to look back on the work his administration has accomplished in helping to strengthen the American judicial system.
"By the end of our term, we will have nominated and had confirmed I think it will end up being over 300 federal judges and hopefully three Supreme Court justices," he recounted. "You know, some presidents, they never get any."
In the spirit of supporting the justice system and specifically those that promise to protect and serve, President Trump highlighted the story of two boys who faced suspension after they carried flags honoring first responders on the commemoration of 9/11.
"Jared Bentley and Brady Williams who were recently suspended from their football team after displaying flags in honor of our police and first responders on anniversary of 9/11…they're good looking kids," he stated.
Trump invites two high school football players who were suspended for displaying Thin Blue Line gear to jump the fence and join him on stage (Brady Williams & Jared Bentley).

"Secret Service is thrilled about this" pic.twitter.com/NR4IDObdTE

— August Takala (@AugustTakala) September 22, 2020