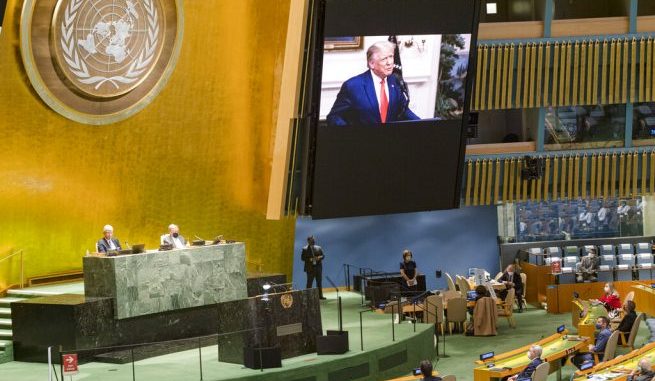 OAN Newsroom
UPDATED 10:30 AM PT – Tuesday, September 22, 2020
President Trump recently spoke on the fight against the coronavirus while addressing the United Nations General Assembly.
"Seventy-five years after the end of World War Two and the founding of the United Nations, we are once again engaged in a great global struggle," he stated. "We have waged a fierce battle against the invisible enemy, the China virus."
In a per-recorded speech Tuesday, President Trump said the U.S. has produced a record supply of ventilators and pioneered life-saving treatments to reduce the fatality rate of the virus by 85-percent since April. He also highlighted vaccine development efforts.
"Thanks to our efforts, three vaccines are in the final stage of clinical trials," he stated. "We are mass producing them in advance, so they can be delivered immediately upon arrival."
The President pivoted to accuse China of infecting the world by continuing to allow flights out of the nation early on in the pandemic. He then called on the UN to hold China accountable.
"We will defeat the virus, we will end the pandemic and we will enter a new era of unprecedented prosperity, cooperation and peace," President Trump continued.
Live now! Watch President @realDonaldTrump deliver remarks to the 75th Session of the @UN General Assembly. #UNGA https://t.co/YW1mbaQqN3

— Department of State (@StateDept) September 22, 2020