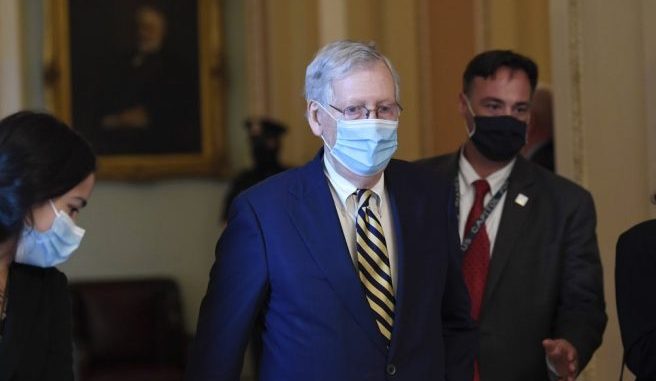 OAN Newsroom
UPDATED 2:35 PM PT – Thursday, August 13, 2020
Progress on the latest coronavirus relief legislation came to a halt following Senate Majority Leader Mitch McConnell's (R-Ky.) decision to adjourn for summer recess. McConnell made the decision on Thursday and announced they will have their "regular pro forma meetings through the end of the state work period."
"If Nancy Pelosi and Chuck Schumer finally let another package move forward, it would take bipartisan consent to meet for legislative business sooner than scheduled," he added.
No family in middle America is saying: "Thank goodness the Democrats are blocking cash payments to me, money for my kids' schools, and money for vaccines until Manhattan millionaires get a tax cut!"

What American families everywhere want is an outcome. pic.twitter.com/wsoLaPKaH5

— Leader McConnell (@senatemajldr) August 13, 2020
The Kentucky senator went on to blast Democrats for pushing negotiations to this point.
"Democrats are barely even pretending to negotiate. The speaker's latest spin, that it is some heroic sacrifice to lower her demand from a made up $3.5 trillion markup that was never going to become law to an equally made up $2.5 trillion markup. She calls this meeting in the middle?" – Mitch McConnell, Senate Majority Leader
This came after the House speaker insisted on including her political demands in the stimulus bill.
Earlier on Thursday, Pelosi requested additional funding for mail-in ballots and the U.S. Postal Service, citing coronavirus fears. She also called for $60 billion to be spent on food handouts, another $100 billion on rent assistance and $75 billion on contact tracing.
The differences between Democrats' plan to combat the coronavirus & the meager proposals presented by the Trump Administration and Republicans in Congress could not be more stark. #FamiliesFirst pic.twitter.com/ThtsuQOIAX

— Nancy Pelosi (@SpeakerPelosi) August 13, 2020
The Senate is set to reconvene on September 8th, while the House will return on September 14th.