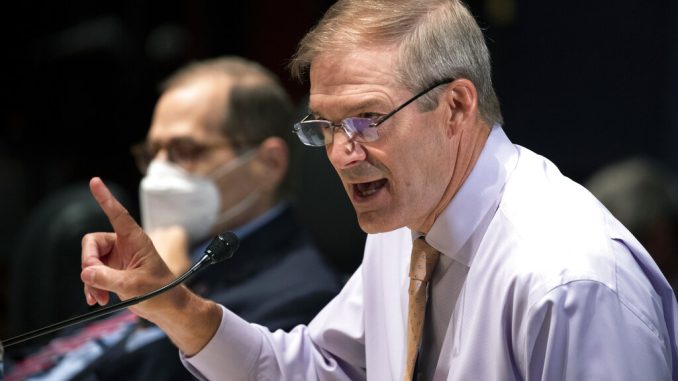 OAN Newsroom
UPDATED 8:49 AM PT – Friday, January 21, 2022
Republican Rep. Jim Jordan (R-Ohio) described his plans for the House Judiciary Committee should he become chair next year. He outlined his aspirations on an episode of "The Truth with Lisa Boothe" on Thursday.
If Republicans gain control of the House after the November midterms, he would be first in line to chair the committee. Specifically, Jordan said he intends to investigate the Justice Department for labeling concerned parents as domestic terrorists.
"Talk about weaponizing government, when you have the President of the United States say the things he did about American citizens," noted the Ohio lawmaker. "And we learned that it wasn't the School Board Association writing the government, it was the government working with the association to get the excuse, to get the pretext they wanted so they could go kill the speech of the moms and dads who were speaking at the school board meetings. And that is frightening and the fact that we learned all that in one day, I think, underscores how serious this is."
The congressman also said he would like to hold a joint investigation with Senate Republicans into possible gain-of-function research in Wuhan, China.
🔥🔥🔥

Everything @POTUS and Democrats have told you about #COVID19 is misleading and inaccurate.

They said they had a plan.

Biden said he would shut down the virus.

They said they would never impose a mandate.@Jim_Jordan brought the FACTS.

WATCH👇 pic.twitter.com/9iXT2mykF4

— Select Committee Republicans (@SelectGOP) January 20, 2022