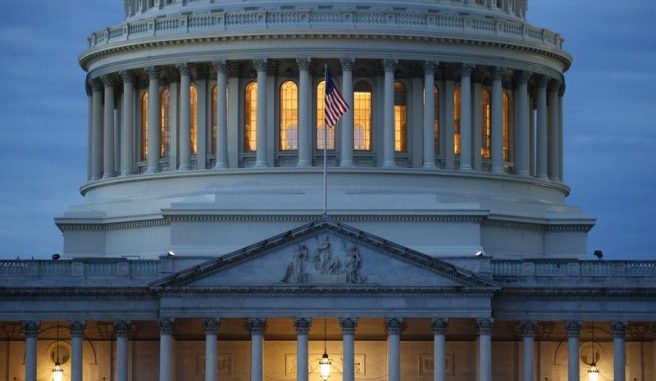 OAN Newsroom
UPDATED 1:18 PM PT – Monday, September 21, 2020
As lawmakers are rattled by the shockwave of Justice Ruth Bader Ginsburg's passing Friday, they still face a laundry list of duties before the November election. Congress is preparing for a busy week ahead with multiple legislative hurdles along the way.
With a September 30 deadline quickly approaching, lawmakers are racing to pass the annual federal funding bill. The threat of a potential government shutdown has led the House to push for a stopgap spending bill that would keep federal agencies funded through December.
This legislation is expected to be introduced in the lower chamber Monday. Democrats are optimistic the will vote on the spending bill early this week, so the Senate can hold their own vote before the impending due date.
Some lawmakers have raised the question of whether House Speaker Nancy Pelosi could use the threat of government shutdown without a spending bill as leverage in the fight over filling Ginsburg's seat in the Supreme Court. While Pelosi implied she's considering various options to combat a nomination before the election, she does not consider a government shutdown to be among those possibilities.
"None of us has any interest in shutting down government," she told a reporter. "That has such a harmful and painful impact on so many people in our country, so I would hope that we can just proceed with that."
Along the lines of funding, the House Financial Services Committee will hold a hearing for Federal Reserve chairman Jerome Powell and Treasury Secretary Steven Mnuchin on Tuesday. The hearing will focus on the need for further financial aid amid the economic fallout of the coronavirus. Both chambers of Congress have been pessimistic about passing a fifth relief package as time is running out before the November elections.
The House is also looking to take up substantial energy legislation to minimize environmental damage and create clean energy jobs. The package is more than 900 pages long. It seeks to allocate funding for research and development on clean energy in the U.S. The matter of environmental change is among several issues on Congress's priority list and Senate Majority Leader Mitch McConnell said action must be taken just last week.
"It's something we ought to address, I guess the key to it is how do you address it?" he asked. "I think most Republicans have a lot more confidence in technology to address the problem of climate change."
The lower chamber will also potentially take up multiple bills targeting forced labor in trade with China. The Uyghur Forced Labor Prevention Act seeks to prevent certain imports from Xin-Jiang and impose sanctions on those in the region responsible for human rights violations.
The second of the bills, the Uyghur Forced Labor Disclosure Act, requires publicly traded companies doing business with the Xin-Jiang region to disclose information on their supply chains, including whether forced labor was involved in the making of these products.
Meanwhile, Senate Republicans are gearing up to release a report on the GOP probe into Democrat presidential nominee Joe Biden and his son Hunter Biden by the end of the week. The probe is centered on Obama-era policies and will likely draw negative attention to the former vice president just weeks before voters are set to cast their ballot in the presidential election.
Finally, the Senate is continuing their nomination process for lower level courts with three judicial nominations scheduled this week.
The stakes on each of these matters are especially high as both chambers are in their last working period before November 3 with just a couple weeks left until they return to their home districts to focus on campaigning.