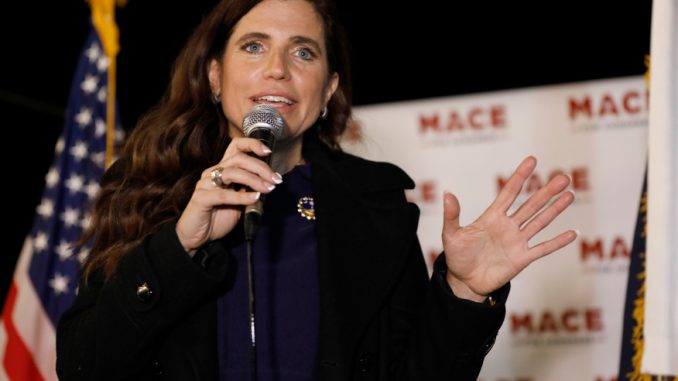 OAN Newsroom
UPDATED 7:12 AM PT – Wednesday, May 26, 2021
Several GOP lawmakers are pushing back against the Biden administration's affinity for critical race theory. The Democrat Party's push for this academic approach for school children is being met by strong Republican opposition.
On Tuesday, Rep. Nancy Mace (R-S.C.) sat down with One America News to detail a pair of bills she introduced, which would ban federal funding for the ideology in schools and the military. She accused Joe Biden of violating the 10th Amendment by trying to influence school curriculum with his education proposals rather than leaving it to local school boards.
We leave school curriculum to local school boards for a reason. They're directly accountable to parents. DC bureaucrats are not.

Forcing a poisonous curriculum like Critical Race Theory on kids is among the worst examples of federal overreach. https://t.co/QnWvJe8HyV pic.twitter.com/Cp4DdGKXOF

— Rep. Nancy Mace (@RepNancyMace) May 24, 2021
Mace predicted Democrats' push for critical race theory will ultimately doom their chances of keeping hold of their dwindling majority in the lower chamber.
"Make no mistake, this is Marxist ideology being pushed by the administration," she stated. "It is meant to divide us and to tell all of us that we are racist. It's indoctrination for our kids in public schools and it's wrong…we cannot and should not tolerate it in any way, shape or form."
Mace's comments came one day after Florida Gov. Ron DeSantis (R) signed a bill cracking down on Big Tech censorship and criticized its role in propagating the theory. The Republican argued social media companies are trying to control the narrative of critical race theory by gaslighting users who criticize it.
"That is not something that's appropriate for schools…it's based on historical falsehoods," he stated. "For example some of these folks tried to say the American Revolution was fought because they wanted to preserve slavery…just open up a history book, read the pamphlets…it doesn't have a place, the Board of Education is going to act."
DeSantis added, the theory hyperbolizes the role of race in American history and warns it casts certain races in a negative light.
In the meantime, more than a dozen GOP-led states, including Ohio, Tennessee and Texas, are moving to ban public schools from teaching concepts that claim white people are inherently racist.
Other critics believe the theory is weaponizing young people and indoctrinates them against America. Many have urged schools across the nation to teach American history by the facts.