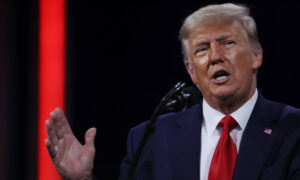 Several Republicans, including two lawmakers, predicted that former President Donald Trump will indeed make another bid for president in 2024.
When asked during a Fox News interview about Trump's prospects on Tuesday, Rep. Jim Jordan (R-Ohio) said that "every time" he has spoken to Trump, the former commander-in-chief "says that he wants to run."
"He plans to run, I think, but he hasn't fully committed that yet. But I certainly hope he does because no president has done more of what he said he would do than President Trump," he said. "Best president I think we've ever had. Keeping his word, doing what he said, doing what he was elected to do."
Jordan said that Trump is "the kind of individual we need in the White House" because he would put "America's interests first and standing strong for the principles that matter."
And Mark Meadows, a former Republican congressman and Trump's former chief of staff, agreed with Jordan's assessment.
"Here's what I will say is, the American people want him to run. I believe he'll run. And at the end of the day, it's a time for choosing, and the American people will choose Donald Trump," Meadows said on Fox News.
Trump has not publicly indicated whether he would definitively run for president. In a recent interview, Trump suggested that he would make an announcement until after the 2022 midterm elections, and after leaving office in January, he has told news outlets that he wants to help Republicans retake the House and Senate.
"In my discussions with him, he said his priority is to ensure that we win the House and get the Senate back—and I know he's working hard," Rep. Devin Nunes (R-Calif) told Newsmax, noting that some polls have shown that Trump still has a significant amount of GOP voter support should he make another bid for the White House.
"It's a long time to 2024 and I think the key will be for us to field really solid candidates across the board and drive home election victories," Nunes said. "And then if that happens, I think Donald Trump would be well-positioned to run in 2024," he added.
Trump, meanwhile, said on Tuesday that he is planning to unveil a new social media website, according to a statement posted on his "From the Desk of Donald Trump" website, which also accused certain news outlets of falsely reporting on the traffic going to the site.
"It is merely a way of communicating until I decide on what the future will be for the choice or establishment of a platform," he said of his "Desk" site.
Of a possible social media platform, Trump asserted that "it will happen soon," which would come months after his accounts on Twitter, Facebook, and other tech platforms were suspended following the Jan. 6 Capitol incident.