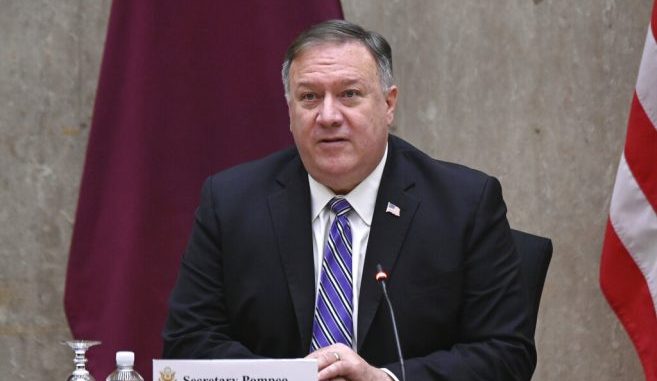 OAN Newsroom
UPDATED 11:27 AM PT – Wednesday, September 16, 2020
While shining a spotlight on recent foreign policy victories of the Trump administration, Secretary of State Mike Pompeo laid out a vision for the continuation of rules-based global order underpinned by America's commitment to the defense of freedom.
Pompeo shared these views during a Tuesday conversation with Atlantic Council President Frederick Kempe, while focusing on major issues of global security facing the United States and its allies.
While taking a moment to celebrate the signing of a landmark peace deal between Israel, Bahrain and the United Arab Emirates, Pompeo attributed this historic agreement to President Trump's refocused policy priorities, which he said recognized Iranian aggression as the primary driving force behind current Middle Eastern conflicts.
"We laid out a vision for peace that had another element, which was the deep recognition that the primary destabilizing force in the Middle East was not the conflict between Israel and the Palestinians," he explained. "It was rather the threat posed by the extraterritorial ambitions of the clerical regime in Iran."
When turning to the rising tensions between the U.S. and China, Pompeo highlighted the danger posed by Chinese expansionism, which he said often comes disguised as lucrative agreements with other nations.
The Chinese Communist Party, he stressed, is seeking global hegemony through the deployment of its "economic might" and uses these agreements in order to exert pressure on its purported partners as well as gain back-channel access to their national security data and infrastructure.
According to Pompeo, this puts in peril the survival of an international system led by America that has allowed for the expansion of both economic prosperity and individual freedoms around the world over the last century… and the continuation of which is the primary goal of U.S. foreign policy.
"Well the outcome, of course, that we're seeking is to ensure that the rules-based system that has benefited not only the United States of America but freedom-loving peoples all around the world, is the dominant force for the next century, for the century that we're in as well," he stated.
Pompeo also sought to dispel what he called "a common myth" that conflict with China is a product of U.S. decline and that increasing tensions between the two signals the rise of China as the primary world power.
The U.S. Secretary of State said nothing could be further from the truth and those who advance this theory misunderstand the "American tradition" as well as the commitment to rooting out the enemies of freedom that characterizes the United States.
"The theory that so many have been talking about for the past 10 years that is predicated on conflict between the United States and the Chinese Communist Party because the United States is a declining nation is fundamentally false," he stated. "It misunderstands American tradition, it misunderstands who we are as Americans."