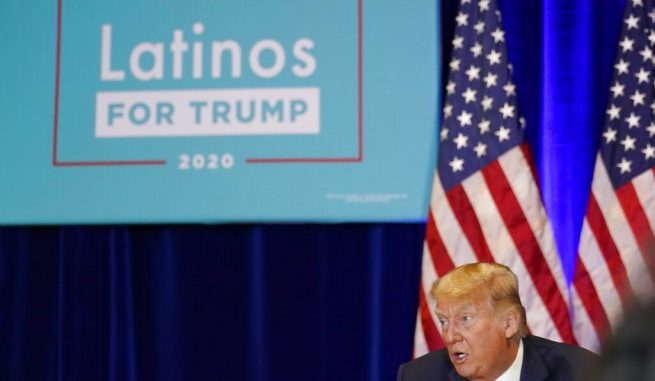 OAN Newsroom
UPDATED 1:20 PM PT – Monday, September 14, 2020
President Trump recently courted the Latino vote by underlining his administration's work in favor of the Hispanic community. This was the main argument of his remarks on Sunday when the President hosted a roundtable discussion with Latino voters in Las Vegas.
Nevada is in play this election and with more than 29-percent of its population identifying as Hispanic, the community's vote will be instrumental in deciding whether its six electoral votes go red or blue.
The President sought to emphasize the contributions his administration has made to the Latino community, primarily by drawing attention to the historically low unemployment numbers among Latinos prior to the advent of the COVID-19 pandemic.
"Before the China virus hit, we achieved the lowest Hispanic American unemployment rate ever recorded in the history of our nation and we're getting it back very quickly, he stated. "The numbers are fantastic, it's building very quickly."
Meanwhile, the President's Democrat opponent, Joe Biden, has reportedly failed to make progress with the Latino community. On Friday, the senior adviser for his campaign said the former vice president has "work to do" in courting their vote.
While conventional narratives spread by the mainstream media push the notion that Hispanics historically form part of the Democrats' base, the Trump campaign has recently made headway within the community by emphasizing traditional values that resonate with voters. This includes faith, family and opportunity.
Moreover, the President sought to dispel a common myth, namely that his immigration policy would drive Latino voters away from supporting his bid for reelection. According to President Trump, Hispanic voters are perfectly aware of the importance of secure borders and through their unique experiences are more likely than most pundits care to admit to support a strong immigration policy rooted in legality as well as fairness.
"Hispanic Americans embody the American dream very much, as much as anybody I can even think about," he stated. "They embody the American dream…we've had tremendous support from the Hispanic Americans on the southern border because they understand the southern border better than anybody."
President @realDonaldTrump: My administration is devoted to the Latino and Hispanic community#LatinosForTrump pic.twitter.com/gc9Hfud1Ih

— Team Trump (Text VOTE to 88022) (@TeamTrump) September 13, 2020