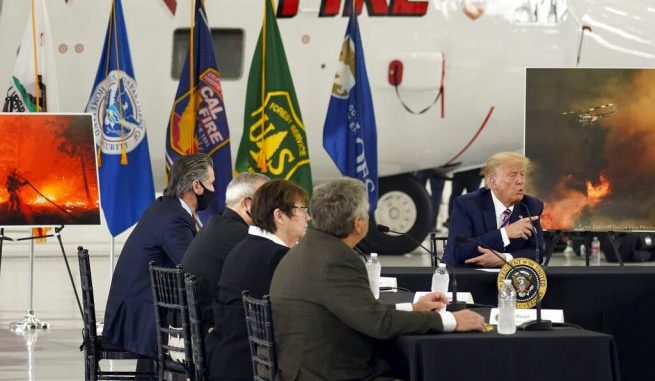 OAN Newsroom
UPDATED 2:12 PM PT – Monday, September 14, 2020
President Trump said he's in sync and closely working with the governor of California to combat the state's ongoing wildfires. He made those remarks during a briefing in Sacramento on Monday. In addition to Gov. Gavin Newsom, a string of other federal state and city officials were in attendance.
The President confirmed the state of California and the federal government have entered in a 20-year commitment to double forest management efforts and increase vegetation. The initiative aims to reduce wildfire risk for 500,000 acres of forest land per year.
"I want to thank you for supporting that effort, funding that effort," stated Gov. Newsom. "We acknowledge our role and responsibility to do more in that space, but one thing is fundamental — 57 percent of the land in this state is federal forest land."
If you are looking for information regarding a specific fire, please see the public information phone numbers below. We do ask that you are patient due to the high volume of calls. For more information, visit https://t.co/atVw5Lam2X. pic.twitter.com/wqolwnpp5Q

— CAL FIRE (@CAL_FIRE) September 10, 2020
Officials went on to call the fires "unprecedented" and confirmed there have been more than 3.2 million acres burned this calendar year.