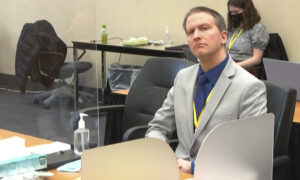 Former Minneapolis police officer Derek Chauvin has been transferred to the Minnesota Correctional Facility-Oak Park Heights.
Chauvin arrived at the facility at 4:55 p.m. CT, shortly after twelve jurors found the 45-year-old guilty of second-degree unintentional murder, third-degree murder and second-degree manslaughter, in the May 2020 death of George Floyd, Minnesota Department of Corrections spokeswoman Sarah Fitzgerald told CNN.
The spokeswoman told the news network that Chauvin is at the facility in Stillwater, Minnesota, through an agreement between the Hennepin County Sheriff's Office and the Minnesota Department of Corrections.
A new booking photo of Chauvin would be made available Wednesday, Fitzgerald added.
Chauvin's most serious charge, second-degree murder, has a maximum sentence of 40 years in prison. He declined to testify in the trial.
Jurors spent approximately eight hours and 20 minutes deliberating across two days, ultimately deciding that Chauvin caused Floyd's death and that his actions were not that of a reasonable officer.
Chauvin knelt on Floyd's neck and back for nine minutes and 29 seconds. Floyd complained that he couldn't breathe and eventually stopped breathing. He was rushed by ambulance to a hospital where he was soon pronounced dead.
Dr. Andrew Baker, Hennepin County medical examiner, concluded that Floyd's death was a homicide as a result of cardiopulmonary arrest in the context of law enforcement. The fentanyl and methamphetamines detected in Floyd's body in the autopsy, in addition to his health history, contributed to the death, the medical examiner's office found.
"It was the stress of that interaction that tipped him over the edge given his underlying heart disease and his toxicological status," Baker told the court.
Prosecutors had to make the case that Chauvin's restraint was a "substantial causal factor" in Floyd's death. They also had to make the case that his actions were unreasonable, because Chauvin was authorized to use force as a police officer, as long as that force would be considered reasonable by an objective officer.
Chauvin, 45, joined the Minneapolis Police Department in 2001. He was fired along with three other officers involved in the arrest of Floyd the day after the incident.
Former officers Tou Thao, J. Alexander Kueng and Thomas Lane, who are currently free on $750,000 bail, are scheduled to go on trial for aiding and abetting murder charges on Aug. 23.
Aiding and abetting murder carries a prison sentence of up to 40 years, although the maximum sentence can be reduced to 15 years under sentencing guidelines.
Zachary Stieber and The Associated Press contributed to this report.