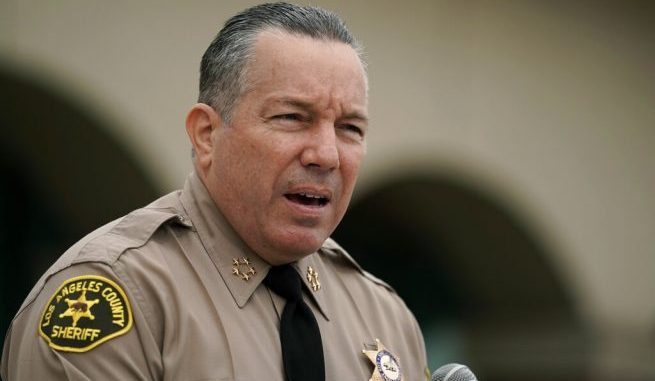 OAN Newsroom
UPDATED 9:35 AM PT – Sunday, September 13, 2020
Two Los Angeles County sheriff's deputies remain in critical condition Sunday after being ambushed the night before. According to reports, a lone gunman approached the deputies in their patrol car and opened fire before fleeing the scene.
The sheriff's department confirmed both deputies sustained multiple gunshot wounds and are "fighting for their lives."
"The two deputies were doing their job, minding their business (and) watching out for the safety of the people on the train," stated Sheriff Alex Villanueva. "To see somebody just walk up and just start shooting on them, it a pisses me off and it amazes me at the same time."
The following footage may be considered graphic.
Update: The gunman walked up on the deputies and opened fire without warning or provocation. pic.twitter.com/cBQjyKkoxJ

— LA County Sheriffs (@LASDHQ) September 13, 2020
Both deputies have been taken into surgery, while the suspect remains at large. The suspect was described as wearing black clothing and a black cap.
President Trump has demanded action following the shooting. On Twitter, he referred to the suspect as an animal and called for the death penalty.
Animals that must be hit hard! https://t.co/zrOd9ZUl8o

— Donald J. Trump (@realDonaldTrump) September 13, 2020
If they die, fast trial death penalty for the killer. Only way to stop this! https://t.co/K3sKh28GjX

— Donald J. Trump (@realDonaldTrump) September 13, 2020
Donald Trump Jr. also called attention to the attack and asked Americans to pray for the deputies.
Please pray for these two Sheriff Deputies. Their lives matter!!! #BlueLivesMatter https://t.co/e0QcaOooYT

— Donald Trump Jr. (@DonaldJTrumpJr) September 13, 2020
The Los Angeles County Sheriff's Department has said, despite the hatred directed at law enforcement, officers will never stop doing their job.
"Our job doesn't get any easier because people don't like law enforcement, it's going to be a challenge day after day," explained Sheriff Villanueva. "However, the sheriff's department will never be deterred in keeping our passengers safe on the MTA lines and keeping our communities safe, we are committed to that."
The department has since addressed rioters on Twitter. Authorities announced those blocking entrances and shouting "we hope they die" in front of the hospital, where the injured officers are being treated, need to disperse.
To the protesters blocking the entrance & exit of the HOSPITAL EMERGENCY ROOM yelling "We hope they die" referring to 2 LA Sheriff's ambushed today in #Compton: DO NOT BLOCK EMERGENCY ENTRIES & EXITS TO THE HOSPITAL. People's lives are at stake when ambulances can't get through.

— LA County Sheriffs (@LASDHQ) September 13, 2020