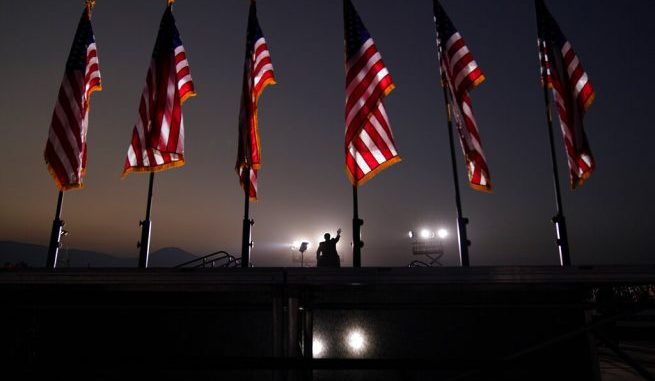 OAN Newsroom
UPDATED 10:15 AM PT – Sunday, September 13, 2020
On Saturday, President Trump called Nevada's governor a "political hack." During a campaign event in Minden, Nevada, the President said Governor Steve Sisolak attempted to stop the rally from taking place.
"Here's a guy, calling venues, telling them not to have the rally," he said. "He was a political hack and then he became governor."
He went on to say Sisolak cannot be trusted to hold a fair election in his state and that he is in control of millions of unsolicited ballots. The Republican National Committee sued Nevada back in August over a new voter law, which aims to send mail-in ballots to all of the state's registered voters.
The President also reaffirmed his belief that Democrats are doing everything they can to rig November's election. During Saturday night's rally, he slammed Joe Biden and suggested domestic terrorism would reign in America if the Democrat were to take over the White House.
"He wants to surrender our country (to) the violent left-wing mob," he stated. "You know that if Biden wins, China wins, the mob wins."
According to the President, Biden has no intention of stopping domestic terrorism. Meanwhile, President Trump has reassured he will enforce the law.
"Biden's plan is to appease domestic terrorists, and my plan is to arrest domestic terrorists," he added. "He'll never be able to protect your family, your loved ones or your community."
President Trump also took aim at Biden's running mate, Sen. Kamala Harris (D-Calif.), and reminded voters who will really be in charge if the Democrats are elected.
"She's rated the No. 1 most liberal…and I would say she'll be president within the first month or so," said the President. "I think it's just an excuse to get the super libs in there."
The President went on to tout his administration's accomplishments since he took office. He noted he was able to do more for the American people in 47 months than Biden has in 47 years.
"Joe Biden spent the last 47 years selling out America, offshoring your jobs, throwing open your borders, depleting your military and sacrificing your children's future in China," stated President Trump. "I've spent the last four years bringing our jobs back to America, securing our borders, rebuilding our military and standing up to China like never before."
He concluded his remarks by urging Americans to get out and vote this November. He promised voters he will continue to strengthen the United States over the course of a second term.
"Together with the incredible people of Nevada, we will make America wealthy, strong, proud and safe again," added the President. "We will make American great again."