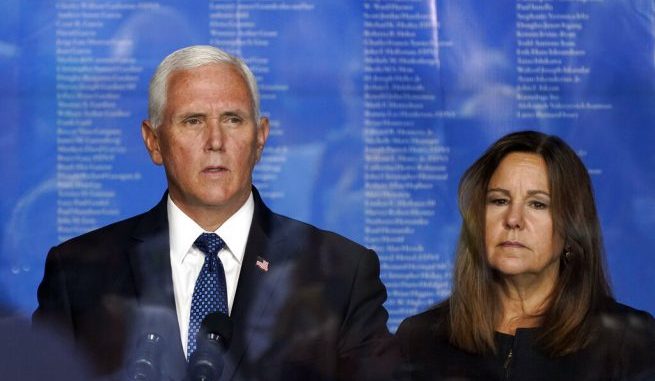 OAN Newsroom
UPDATED 3:00 PM PT – Friday, September 11, 2020
Vice President Mike Pence commemorated the 9/11 terrorist attacks in New York City on Friday. The Vice President and Second Lady Karen Pence took part in the Tunnel to Towers Foundation's September 11th memorial ceremony and the reading of the 9/11 victims' names.
"In the memory of all those we lost on this day 19 years ago, in memory of the heroes that were forged that day and on battlefields ever since, for the families, loved ones and friends they left behind, I pray these ancient words will comfort your hearts and ours," he stated.
.@SecondLady and I were truly honored to travel to New York City today to Remember the Fallen and pay tribute to the Heroes of 9/11. We will Never Forget the nearly 3,000 men and women lost that day and their families are in our hearts and prayers. #NeverForget pic.twitter.com/Kfgi2m5wZk

— Mike Pence (@Mike_Pence) September 11, 2020
The foundation hosted the ceremony after the National September 11 Memorial and Museum cancelled its annual name reading due to coronavirus concerns.
Foundation CEO Frank Siller has said he was honored by Pence's participation. He emphasized memorial events must continue to take place to ensure the horror of that day never leaves our memory.
A very special thanks to @VP @Mike_Pence and @SecondLady @KarenPence for their support at today's #Tunnel2Towers LIVE #ReadingoftheNames. #NEVERFORGET #September11 pic.twitter.com/SChxHkQ3cJ

— Tunnel to Towers Foundation (@Tunnel2Towers) September 11, 2020