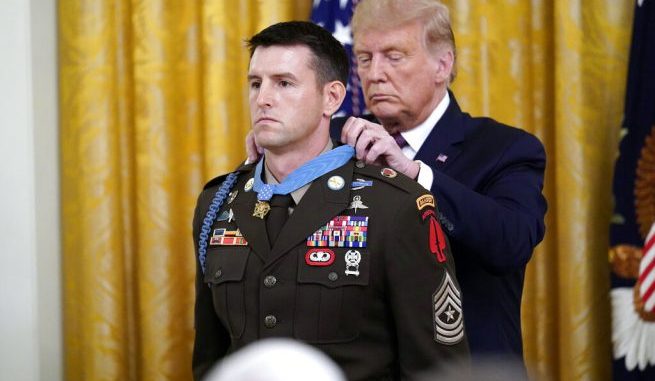 OAN Newsroom
UPDATED 2:35 PM PT – Friday, September 11, 2020
On Friday, President Trump awarded Army Sergeant Major Thomas Payne with the Congressional Medal of Honor. During a special ceremony at the White House, the President bestowed the honor on Payne for his heroic efforts fighting ISIS.
The soldier risked his life to rescue more than 70 Iraqi hostages, who were being held by the Islamic State, from a burning building during a 2015 mission.
"Pat ran back into the burning building that was collapsing two more times," stated President Trump. "…It was one of the largest and most daring rescue missions in American history."
Today, Sergeant Major Payne joins the company of our most revered American heroes.

Pat—you personify the motto "Rangers Lead the Way" and you inspire us all! pic.twitter.com/tZDqyo6KUt

— The White House (@WhiteHouse) September 11, 2020
The 36-year-old returned to the Army after recovering from a grenade blast, which shattered one of his knees in 2010.
Payne had tried to enlist with the Marine Corps after 9/11 when he was 17, but his mother didn't sign his waiver. On the 19th anniversary of the attack, President Trump bestowed the country's highest military honor on Payne and said, "You inspire us all."
"You embody the righteous glory of American valor," added the President. "We stand in awe of your heroic, daring and gallant deeds."
In one of the largest and most daring rescue missions in American history, Pat and his team rescued 75 captives and killed 20 ISIS terrorists.

"Pat, you embody the righteous glory of American valor." pic.twitter.com/uvsybfS6Ci

— The White House (@WhiteHouse) September 11, 2020