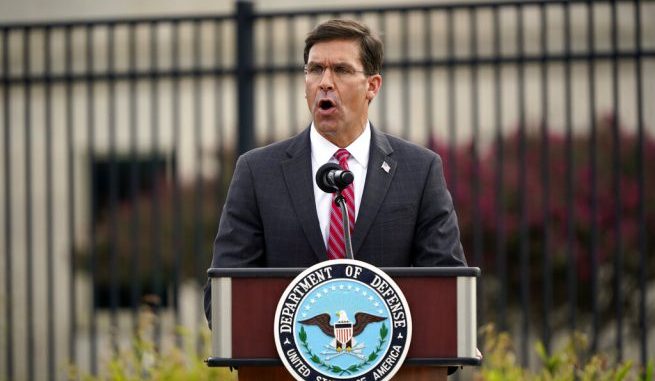 OAN Newsroom
UPDATED 2:00 PM PT – Friday, September 11, 2020
Top military officials have said they will never forget the lives lost or the tremendous sacrifices made on 9/11. Defense Secretary Mark Esper and Joint Chiefs of Staff Chair Mark Milley delivered remarks outside the Pentagon on Friday to honor the 19th anniversary of the attack.
One of the four planes involved in the attack hit the Pentagon, killing 184 people. Each year, a flag is draped over the wall where the plane struck in remembrance.
Esper went on to say Americans gather to honor and remember the innocent lives that were suddenly, violently taken from us in 2001.
"It was a vicious assault, directed not just at our people and our institutions, but also at our most sacred ideals," stated Esper. "Yet, in their attempt to shake the very foundations of our republic, to destroy our way of life, they underestimated our strength, our resolve and our unbreakable spirit."
He added they also honor the numerous acts of heroism that prevented the death toll from becoming much worse that day.
At the Pentagon, we honor the acts of heroism that prevented the toll from becoming much worse. Americans, determined to save their colleagues, rolled in pools of standing water to protect themselves as they repeatedly rushed back into the burning rubble & smoldering ruins. pic.twitter.com/dmeblKI5li

— Dr. Mark T. Esper (@EsperDoD) September 11, 2020