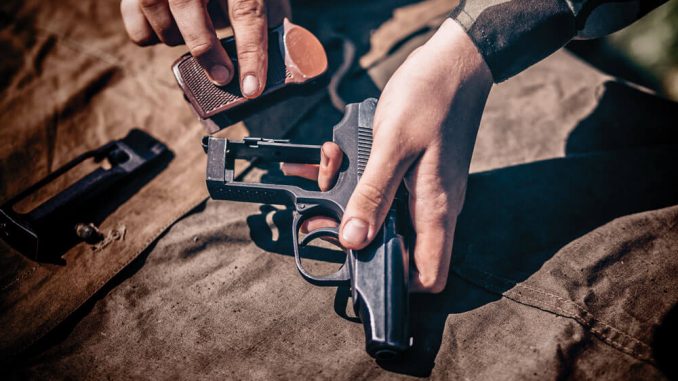 Security Products That Help Build Your Home Defense 
Security will always be more about personal preparedness, knowledge and awareness than about gear. However, there are plenty of products that can bolster and compound our knowledge, skills and abilities.
We have assembled a group of security items, including some innovative, new weapons, home security solutions, some goodies that will defeat the darkness and gear that's designed to help you carry your weapon-of-choice.
This article is one of three parts of the Security section that appeared in the Fall, 2018 Prepper Manual. Additional information and tips are available as well.
Beachin Tactical Speed Sling
Overview
The Beachin Tactical Speed Sling was created by Jacob Beach after his tours in Afghanistan. He struggled with several issued and personally-purchased slings during his military career. Upon returning home, he decided to design and produce a sling that met his security needs and that he would be proud to carry.
Each sling is handmade using the highest-quality U.S.-sourced components. The quick-detachment system stays at the chest, making it fast and easy to operate.
The slings have paracord padding, along with rugged and simple attachment hardware, and are highly adjustable for a broad range of rifle and shotgun carry options.
Specifications 
MIL-SPEC base webbing
Made with 32 feet of MIL-SPEC paracord
U.S.-made quick-release buckle
Customizable colors and camo patterns
MSRP: $64.99
URL www.BeachinTactical.com
Black Aces Tactical Shockwave Peacekeeper, 18.5-Inch
Overview
For more than 100 years, the shotgun has been the pinnacle of personal-defense weapons. There are few things on the market that can match its raw power and ability to stop a threat in its tracks.
Black Aces Tactical has applied its technical prowess to the semiautomatic Remington 1100 and 1187 shotguns and has created an innovative series of compact, highly reliable 12-gauge weapons platforms. Every part of these shotguns has been specifically re-engineered to provide the ultimate in reliability and ammunition flexibility.
Specifications 
Reliably cycles both high- and low-brass ammo
Redesigned gas system
Capacities: 6+1 or 4+1
Re-engineered recoil mechanism
Available in NFA and non-NFA configurations
MSRP: Starting at $949
URL www.BlackAcesTactical.com
Center Mass Group, LLC, Training Aids
Overview
The Center Mass Group is the brainchild of retired U.S. Navy SEAL Chris Sajnog. The company offers a variety of firearms training opportunities. Choose from the book, How to Shoot Like a Navy SEAL, "The New Rules Training" online training seminars membership or one-on-one physical training with Chris himself.
Whichever training system you choose to employ, following Chris's unique training programs is sure to enhance your shooting skills.
Specifications 
Soft cover; 114 pages
Navy SEAL Shooting (soft cover; 386 pages; MSRP: $29.97)
"New Rules Shooting" online academy (monthly subscription starts at $19.97 per month)
MSRP: $6.99

Dueck Defense Red Dot Back Up Sight Base
Overview
Red-dot sights on pistols are becoming increasingly popular with defensive pistol professionals. Unfortunately, if your pistol isn't designed to accommodate these sights, your options are limited for installing them on your weapon.
Dueck Defense has introduced the Red Dot Back Up Sight Base to address this issue. The sight base is designed to dovetail into the existing factory rear sight slot and includes its own set of iron sights built into the base.
Specifications 
Optimal height for use with suppressors
Compatible with most red-dot holsters
Made in the U.S.A.
MSRP: Starting at $129.95
URL www.DueckDefense.com
Holosun HS507C Micro Red Dot
Overview
The HS507C is a state-of-the-art micro red-dot sight designed for use on pistols. Its open-frame design ensures a good sight picture with minimal obstruction. The hardened glass pane is housed in a rugged housing manufactured from hard-anodized 7075 aluminum.
The 507C provides the user with the option of three reticles: a 2 MOA dot, a 32 MOA circle or a combination of the two. All reticles are projected from a single LED emitter, meaning that your zero will never be compromised.
Specifications 
Solar Fail-Safe backup power supply
Shake Awake auto-off/-on feature
Industry-standard footprint for ease of mounting
Up to 100,000 hours of battery life plus solar backup
Weight: 2.65 ounces
MSRP: $352.93
URL www.Holosun.com
Kershaw Bareknuckle Folding Knife
Overview
When Kershaw introduced the Natrix model, it was an instant hit. However, many customers asked for a version made here, in the U.S.A., with upgraded materials. Kershaw listened to those requests and is proud to introduce the Kershaw Bareknuckle.
This blade is designed to be a full-sized EDC tactical knife. Despite its size, the Bareknuckle is lightweight. Its reversible, deep-carry pocket clip means the blade stays out of sight until you are ready to use it.
Specifications 
Premium Sandvik 14C28N blade steel
KVT ball bearing flipper
Aluminum scales with a steel sub-frame lock
Reversible, deep-carry pocket clip
MSRP: $109.99
URL https://Kershaw.KAIUSAltd.com

Benchmade 818 Mini Loco
Overview
Benchmade designed the Mini Loco to be a premium-grade EDC/tactical folding knife. Based on Benchmade's extremely popular 808 Loco, the Mini Loco is smaller, lighter and more pocketable while still retaining all the overbuilt, hard-use qualities of its bigger brother.
The steel liners, G10 grips and legendary Axis lock, combined with the reverse-tanto blade made from premium steel, mean that the Mini Loco will be up to whatever task you need it to perform.
Specifications 
Overall length: 7.62 inches
Closed length: 4.38 inches
Blade length: 3.38 inches
Blade steel: S30V
Deep-carry reversible pocket clip
Weight: 4.47 ounces
MSRP: Starting at $225
URL www.Benchmade.com
Spartan Knives Velos EDC Lapel Dagger
Overview
The Velos was designed by company co-owner Curtis Iovito to be the perfect EDC/backup/survival blade. The design was inspired by the lapel daggers used by the O.S.S. during World War II. The size of the Velos allows it to be carried almost anywhere, while its full stainless steel construction means that it won't rust, even in deep concealment.
The selection of a premium steel also means that the Velos will hold its edge for a very long time. It also incorporates a flathead screwdriver and a hex tool lanyard hole.
Specifications 
Overall length: 4.5 inches
Blade length: 2.125 inches
Blade steel: CPM-20CV, black or bead-blasted
Sheath: Black Kydex with breakaway neck chain
Weight: 1.09 ounce
MSRP: $95
URL https://SpartanBladesUSA.com
Black Scout Survival Concealment Belt
Overview
Jack Richland, the owner of Black Scout Survival, has teamed up with Mark Laine of Centerline Systems to create a multi-function belt that can be worn every day. This belt provides a solid platform for carrying a firearm, and it also incorporates two hidden pockets that use deployment tabs to deliver contents into your hand when opened.
Unlike many rigger's belts on the market, the Concealment Belt is designed without unnecessary straps and buckles, keeping the belt highly functional and low-profile.
Specifications 
Buckle: 1.5-inch Austri-Alpin Cobra buckle
Webbing: 1.5-inch MIL-W-55301 and 05-0575 webbing
Rigid construction allows use as a gun belt
Front and rear hidden pockets
MSRP: Starting at $90
URL www.BlackScoutSurvival.com

Hardwire, LLC, Composite Armor Level IIIA Bulletproof Inserts 
Overview
Hardwire is no stranger to producing high-end composite armor systems. Founded in 2000, Hardwire has been producing armor for the U.S. military since 2001. This company has led the way in producing armor systems for personnel, ground vehicles, aircraft and boats.
Hardwire has now expanded its product line to include armor systems for use in schools. These bulletproof inserts are designed to fit inside backpacks and bags to provide the user with NIJ-certified, Level IIIA ballistic protection.
Specifications 
Size: 10×13 inches
Weight: 1 pound
Dry-erase marker-compatible panel surfaces
Available in six civilian-friendly colors
10-year limited warranty
MSRP: $119
URL www.Hardwirellc.com
Fenix UC35 V2.0 Flashlight
Overview
Fenix has made a name for itself in the tactical/EDC flashlight market. This company is known for producing useful, premium-quality flashlights, as well as for never settling for "good enough." Fenix has refreshed its venerable UC35 flashlight for 2018 with the UC35 V2.0.
This new version provides a more-compact overall size, higher output with greater power efficiency, upgraded stainless steel buttons, improved integrated charging circuitry and improved dust and water resistance.
Specifications 
Output: 1 to 1,000 lumens
Battery charge indicator with low-voltage warning
IP68 dust and water resistance
Includes a rechargeable 18650 battery and micro USB cable
MSRP: $120
URL www.FenixLighting.com
DoorJammer Door Security Device
Overview
The DoorJammer is a unique piece of equipment designed to provide added security to existing doors. The DoorJammer uses a system of patented hinges and angles to convert horizontal force being applied to a door into vertical force, which will prevent the door from being opened.
The DoorJammer is very simple to install and use and it  provides enough adjustment to be effective on a wide variety of doors and floors. Additionally, the DoorJammer is small enough to be taken with you when you are traveling. It is easily installed and quickly removed if an emergency requires you to exit your room fast for security.
Specifications 
Height: 4.75 inches
Width: 2.75 inches
Weight: 8 ounces
Includes neoprene extension foot and wedges
MSRP: $29.99
URL www.Door-Jammer.com
Editor's note: A version of this article first appeared in the Prepper Fall, 2018 print issue of American Survival Guide.