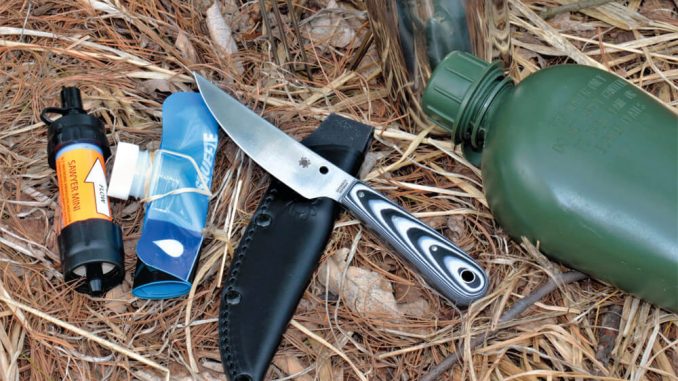 Spyderco Makes Some Of The Best Fixed Blade Survival Knives.
When you mention Spyderco, it's likely that the company's extensive line of folding knives comes to mind. After all, its trademark round thumb hole on the blade makes its knives very distinctive and memorable.
Spyderco's folders certainly had an effect on my life. As a young police officer many years ago, many of us on the job discovered the Spyderco Delica. Prior to that, a lot of the officers carried large, heavy lockback hunters that didn't carry well in a pocket.
However, the Delica's small size and light weight quickly helped it become the knife we carried, both on and off duty. And, its fully serrated edge would tear through almost anything we needed to cut. Some officers opted for the larger Endura model. The most innovative design element at the time, of course, was that thumb hole that allowed the blade to be opened with one hand (that was before the ever-present thumb studs, flippers and other devices that are common now).
However, the company also has a good number of excellent fixed blade models, and I wanted to take a closer look at them.
Impressive Fixed Blades
As someone who spends lots of time outdoors hunting, camping and generally staying out of people's way, I'm also a big fan of fixed blade knives. I've used fixed blades—from inexpensive production models up through pricey custom blades, with many of them taking turns as my "favorite of the day."
Spyderco has made fixed blade knives for years. But, strangely, I've only started to really take notice of them within the past couple of years. I chose six Spyderco fixed blades—including, perhaps, some unconventional picks—to see how they could apply to bushcraft and survival applications.
Bow River
Knife designer Phil Wilson was the collaborator on Spyderco's Bow River. Wilson drew on his experiences as an outdoorsman, a hunter and fisherman for this creation.
The Bow River features a full-flat-ground, trailing-point blade made from 8Cr13MoV stainless steel. It has smooth, rounded grip panels of layered black and gray G-10. It's very striking and different. Whether it appeals to you or not, one thing's for sure: You won't lose it if you set it down while field dressing a deer.
It comes with a black leather belt sheath. The knife slides deeply into the sheath to keep it secure. I love this knife! For one, it's a perfect size, with its 3.65-inch cutting edge. It's thin—just 0.108 inch thick. Those dimensions, coupled with its slight trailing point blade shape, make it my ideal knife for field-dressing big game.
Its handle is sufficiently wide to be comfortable and secure in the hand during use. The grip is rounded at the butt and fits very nicely in the palm. It wasn't hunting season when I conducted my tests, so field dressing game was out of the question. But I did thaw some beef steaks, and the Bow River performed well cutting those into strips. I also tried it out for slicing wood shavings I typically use to start the twig stove I made from an aluminum can.
If a knife is your only tool, you might choose a more robust knife. But, pair the Bow River with a hatchet and folding saw, and there isn't much you can't do when it comes to living outside. I'm a big proponent of that three-tool kit.
Bradley Bowie
I find Gayle Bradley's knife designs to be very handy and useful. Spyderco's Bradley 2 is one of my favorite folders.
The Bradley Bowie isn't what you'd normally think of when it's associated with the "Bowie" designation. It's not long enough to look like a mini sword, nor does it have an impractical, exaggerated clip point. Instead, it has a 5.13-inch blade with a 4.57-inch cutting edge and a slight clip point that's strong. It's not too thin and pointy, yet it's still useful if you need to employ the tip when reach is required. It does, however, feature a Bowie-like unsharpened swedge (or false edge) on the back of the blade.
The PSF27 steel blade has a full flat grind. PSF27 is a tough, spray-formed tool steel made with a process that rapidly solidifies molten steel for a resulting fine grain. This alloy consists of 1.55 percent carbon, along with some molybdenum and vanadium. Its chromium content is just 12 percent, so it's not designated as a "stainless steel." Wipe it down with an oily cloth after use, and it'll be fine. It sharpens very easily.
This knife has full-tang construction, as all good fixed blades do. It has smooth, contoured G-10 grip panels that fit the hand and provide a protective finger guard at the front. The grip panels are secured with tubular rivets that allow for the attachment of a lanyard or for the knife to be lashed to a pole as a lance. Included is a Boltaron synthetic sheath with an adjustable G-Clip attachment.
The Bradley Bowie is a great, all-around knife. The blade has sufficient belly for skinning chores and is thick enough for medium- to heavy-duty tasks. I used it to fashion some tent pegs and found the heft of the blade capable of shaving significant wood using push cuts. It was also capable of moderate chopping cuts.
It made quick work of fashioning tent pegs. When would you ever have to do that? you ask. Well, when traveling with minimal gear, I've made tent pegs to secure my rubberized nylon poncho to form an improvised shelter.
Jumpmaster 2
Spyderco's Jumpmaster 2 doesn't look like a typical bushcraft or survival knife. Yet, I found it to be a very capable blade. The original Jumpmaster, with its sheepsfoot blade, was designed in cooperation with U.S. Army airborne soldiers. It was intended as a lightweight blade that would be efficient at cutting static lines of parachutes if a jumper became hung-up.
The updated Jumpmaster 2 features the same aggressive, full-serrated edge, but with a leaf-shaped, drop-point configuration to make it useful for a wider range of tasks. Together with its nearly rust-proof H-1 steel, this blade shape makes the Jumpmaster 2 very useful for the outdoorsman.
When it comes to making clean push cuts, the main gripe about fully serrated edges is that they're not as good as plain-edge blades. This can be minimized to some extent with Spyderco's serrated-edge pattern that alternates between one wide, then two narrow serrations. By making a push cut—carefully using one of the wider serrations close to the handle—small, clean cuts can be accomplished if, for instance, you needed to make a trigger for a snare in a survival situation.
Where a serrated edge and the Jumpmaster 2 specifically excel is in making slicing cuts. Draw the blade across almost any tough material, and the serrated edge will perform exceptionally well. A serrated-edge blade could very well be the offspring of a knife and a saw.
The Jumpmaster 2's hollow-ground blade is 4.48 inches long, with a cutting edge of 4.06 inches. The knife is a handy, 9.36 inches overall. It features durable, FRN (fiberglass-reinforced nylon) handle scales with Spyderco's Bi-Directional Texturing. Weight is kept to a mere 5.4 ounces; this is important if you're burdened with lots of other gear. Included is a molded Boltaron synthetic sheath with an adjustable G-Clip that allows for either right- or left-side carry.
Initially, I tried the Jumpmaster 2 on cutting some rope. Too easy! Then, I put it to work slicing through some reinforced rubber garden hose. It's for jobs such as these that the serrated edge really shines. It would be great for slicing meat and other camp kitchen work.
Very rarely do I carry only one knife afield. The Jumpmaster 2 makes a good companion to a plain-edge blade. That would be infinitely more useful than a partially serrated blade that puts the serrations in the wrong place—close to the handle.
Enuff
Enuff is enough, for most things, anyway. A small knife could probably handle over 90 percent of my cutting chores, especially if the majority of those chores consists of precise push cuts using the portion of the edge closest to the handle. And, if you have a hatchet and folding saw in camp, as I mentioned earlier, you might never need a longer blade.
The Spyderco Enuff is designed around the idea of maximum utility in a minimalist blade. It features a 2.75-inch blade with a 2.54-inch cutting edge and a flat grind on VG-10 steel. VG-10 has been around for a while, so if you're one who insists on this year's jump-on-the-bandwagon steel, you might turn up your nose. Nevertheless, VG-10 is a stainless steel that continues to provide a good balance of cutting performance, corrosion resistance, edge retention and sharpening ease.
The Enuff has lightweight FRN grip panels with Bi-Directional Texturing for a secure grip. It weighs a mere 3.8 ounces and comes with a molded Boltaron synthetic sheath with an adjustable G-Clip attachment.
The Enuff I tested had a leaf-shaped drop point blade. It's also available with a clip or a sheepsfoot blade. The sheepsfoot model, which is close to a Wharncliffe, comes with a saber grind and Spyderco's SpyderEdge serrations—excellent for cutting seat belts and other rescue work.
I put the Enuff to work processing tinder to create shavings for starting a fire. During my work with it, I appreciated its ability to make precise cuts. The Enuff came out of the box extremely sharp, and it wasn't really dull when I put it away. But, a couple of quick strokes across a ceramic sharpener, and it was as good as (maybe even better than!) new.
Zoomer
Many will shy away from the suggested retail price of $600 for the Spyderco Zoomer. But, if you believe in the adage that you get what you pay for, the Zoomer has that kind of top-of-the-line quality.
Tom Zoomer, a survival skills instructor from the Netherlands, designed the knife that bears his name. It features a drop point, plain edge blade of CPM 20CV steel, a Crucible particle stainless steel that's highly wear- and corrosion-resistant. It has a convex grind that helps make the edge especially tough when it comes to chopping and other rough use.
The Zoomer features a hand-filling G-10 grip that's smooth and contoured to eliminate hot spots that could lead to blisters during prolonged jobs. The lanyard hole at the butt end is recessed so it doesn't use up any of the usable grip space. The slightly exposed portion of the full tang does allow for hammering if needed.
Many knives feature a thumb ramp or jimping on the spine for greater control. Instead, the Zoomer has a shelf that extends continuously from the grip panels up and over a portion of the spine. This provides for comfortable thumb placement, along with enhanced blade control.
The Zoomer's sheath matches the quality of the knife. It's made of thick leather with a swivel belt loop. The knife can be placed either forward or backward in the sheath for ambidextrous carry. A pouch attached to the outside of the sheath has room for a small folding knife, sharpening stone or fire-starting gear. A soft-sided, zippered storage pouch holds both the knife and sheath when they're not in use.
I used the Zoomer to make long push and slicing cuts on dry wood. I also tested its convex grind by chopping a dead sapling about 2 inches in diameter by tapping the back of the blade and using another piece of wood as a baton. I'm not a big fan of batoning; I'd rather use the saw blade on my Swiss Army Knife to perform the same work. However, the Zoomer worked well at this task.
If you're building a shelter or constructing a travois to haul a heavy load, it's good to know you have a knife that's up to the task.
Sustain
Stuart Ackerman, a native of South Africa, is a military combat veteran who designed the Spyderco Sustain for courageous—or crazy—sportsmen (depending on your point of view) who hunt wild pigs with only a knife and a small pack of dogs.
The idea was that the knife should have utility beyond pig-sticking to build a fire, construct a shelter and prepare food. The Sustain has a 6.19-inch blade with a saber grind and a 6-inch cutting edge. The steel is CPM 20CV. It has a drop-point blade that's nearly a spear point in shape. It also has a long swedge (or false edge) on the spine that contributes to its extremely acute point. It's unlike other fixed blades I've used, in that the blade is just 0.118 inch thick—rather thin for a blade that long.
What the Sustain lacks in heft for chopping it gains in piercing ability. When testing the knife's ability to penetrate, I used a gloved hand and attached a paracord loop through the (thankfully) ample lanyard hole. I placed the loop over the top of the handle, which created two loops under the grip to secure my fingers. I didn't want to risk my hand moving forward onto the blade. Several layers of thick cardboard were no match for the Sustain's sharp point. (I can see why they use this knife for hunting hogs, although that's not the way I'd want to do it.)
The grip panels are smooth G-10 with a contoured finger guard and are secured with blind pins. The Sustain comes with a deep, leather pouch-style sheath.
The Right Tool
The best fixed blade knife for you depends on the jobs you need it to do and the types of cuts you'll be using. You might be traveling light, hunting dangerous game, processing meat, building shelters, taking part in search-and-rescue operations or performing other hard-use tasks.
After putting these very different knives to work, I'm convinced that Spyderco has a fixed-blade knife that will suit you well.
Editor's note: A version of this article first appeared in the October, 2020 print issue of American Survival Guide.
The post Unsung Bushcraft Heroes: Spyderco Fixed Blades appeared first on American Survival Guide.