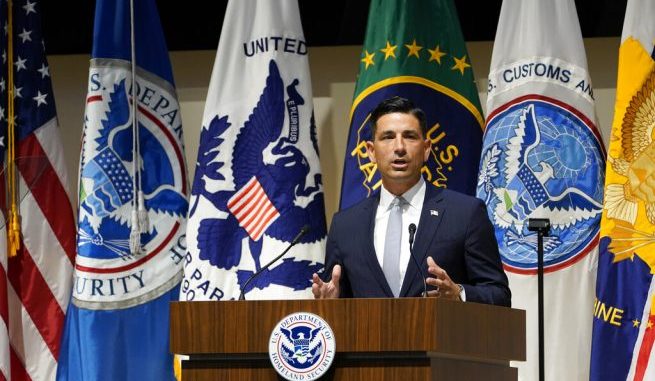 OAN Newsroom
UPDATED 8:36 AM PT – Thursday, September 10, 2020
We stand — ready to rise and ready to face the next challenge that threatens our homeland. pic.twitter.com/6tGQxl0SFV

— Acting Secretary Chad Wolf (@DHS_Wolf) September 10, 2020
The head of the Department of Homeland Security (DHS) called the ongoing protests and violence one of the top threats facing the U.S. Those threats include the coronavirus pandemic, drug trafficking at the southern border and election interference.
Acting DHS Secretary Chad Wolf made the remarks during his State of Homeland Security address Wednesday in Washington, D.C. He accused the "ill-informed minority" of painting recent DHS actions as examples of polarization and said they could not be more wrong.
"DHS must not, and under this administration will not, permit baseless sensationalism to deter our commitment to secure America," he stated.
Wolf also said some politicians and media figures characterize the extreme violence in Portland and other cities as mostly peaceful. He also noted that DHS supports peaceful assembly as a constitutional right
"Our Constitution protects the natural right to freedom of speech and peaceful assembly..the department supports the exercise of everyone's First Amendment rights," he stated. "There is, however, no constitutional right to loot, to burn or to assault law enforcement officers or your fellow citizens."
His remarks come as Portland surpasses more than 100 consecutive days of demonstrations. While the Portland mayor and Oregon governor have waved off President Trump's effort to send federal aid, Wolf said the DHS has continued to stand in opposition to any form of extremism.
"I'm proud to say that DHS has taken unprecedented actions to address all forms of violent extremism, to specifically include threats posed by lone offenders and small cells of individuals," Wolf stated.
The DHS secretary announced the department will soon be releasing an implementation plan, which will outline dozens of actions to combat domestic terrorism. The acting chief said DHS will also soon reveal the recipients of its terrorism prevention grants.