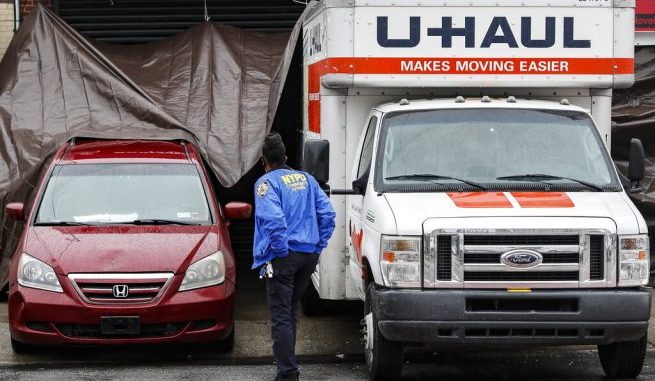 OAN Newsroom
UPDATED 6:50 PM PT — Thursday, April 30, 2020
On Wednesday, reports said more than 50 bodies were being stored in four trucks outside the Andrew T. Cleckley Funeral Services home in Brooklyn. A strange smell and the sight of fluids dripping from a U-Haul truck prompted neighbors of the New York City funeral home to call authorities.
The owner has said the freezer unit that stores the bodies stopped working, which overwhelmed the home and its capacity. The trucks were reportedly used to store the bodies that were awaiting cremation.
"They're people, they were somebody, and they should be treated with dignity and respect," said one resident. "You know, it's like throwing them away, it's not good."
It's unclear how long the bodies were stored in the trucks or if any were victims of the coronavirus.
New York City reportedly has freezer trucks funeral homes can use if they become overwhelmed. One of those refrigerated trucks was spotted outside the funeral home later in the day as bodies were unloaded from the U-Haul trucks.
During a briefing, Mayor Bill de Blasio called the situation "absolutely unacceptable" and stressed funeral homes have an obligation to treat the people they serve with dignity. He noted the city historically doesn't have a direct working relationship with funeral homes, which are regulated by the state.
"I don't understand, in this case, if the funeral home – I heard something about a driver didn't show up or something like that – why on earth did they not either alert the state, regulate them, or go to their NYPD precinct and ask for help? Do something rather than leave the bodies there. It's unconscionable to me." – Bill de Blasio, Mayor of New York City
According to the New York State Health Department, funeral directors are required to store decedents awaiting burial or final disposition in appropriate conditions and to follow routine infection prevention precautions.
Citations were issued to the funeral home owner, but no criminal charges were made.