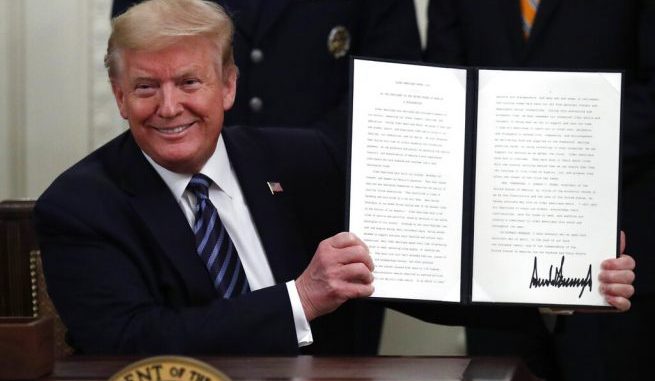 OAN Newsroom
UPDATED 6:05 PM PT — Thursday, April 30, 2020
President Trump has announced new measures to protect America's seniors amid the pandemic. On Thursday, the president revealed the creation of the 'Coronavirus Commission for Safety and Quality Nursing Homes,' which will focus on protecting the nation's senior population.
The commission will be using $81 million from the CARES Act to increase nursing home inspections.
"This week, we'll be finalizing a new rule requiring information about coronavirus cases in nursing homes to be reported directly to CDC and testing data to be posted online, so everyone gets to see it," stated President Trump. "This will also require nursing homes to report cases to residents and their family members."
President @realDonaldTrump is taking unprecedented steps to protect America's seniors from the Coronavirus! pic.twitter.com/tZFZ3vQ8ys

— The White House (@WhiteHouse) April 30, 2020
He also signed a proclamation declaring May as 'Older Americans Month.'
According to the president, U.S. officials and scientists are working as fast as possible to produce a coronavirus vaccine as part of Operation Warp Speed. On Thursday, he announced his administration will "fast-track a vaccine like never before" as soon as one is produced.
The Trump administration's goal is to have 100 million doses of the vaccine ready by the end of the year. The president confirmed he will be overseeing the effort.
"Whatever the maximum is, whatever you can humanly do, we're going to have, and we hope we're going to come up with a good vaccine. You know who's in charge of it, honestly? I am. I will say we're dealing with, as you know, the general and the admiral. They're very much in charge, but I think probably more than anything, I'm in charge." – Donald Trump, 45th President of the United States
Biotech firm Moderna has been working with the National Institutes of Health on a potential vaccine, which went through an early phase of human trials in March. The National Institute of Allergy and Infectious Disease has reported Gilead Sciences' antiviral drug Remdesivir may be effective in fighting the virus.
MORE NEWS: Nursing Home Industry Braces For A Surge In Civil Lawsuits