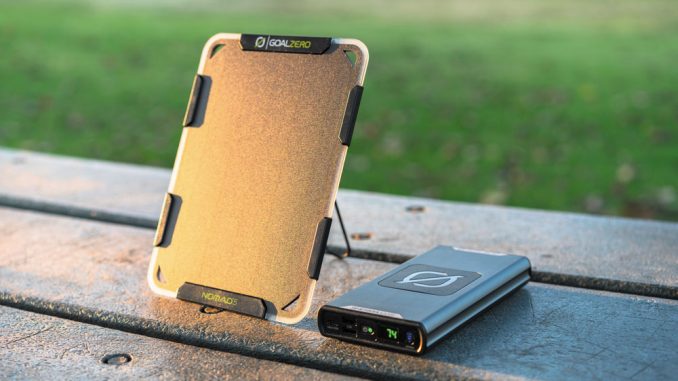 We Review Goal Zero's Sherpa 100PD and Nomad 5
Since its inception, Goal Zero has been on a mission to empower people with a bright, safe, connected and sustainable future by delivering smart, portable power solutions designed for everyone, everywhere. Their products have helped adventurers, explorers, and those living off-grid by providing them with portable power.
Their product collection has evolved to provide power when you need it most whether you're on a week-long hike or on a flight – there is something for everyone.
No one is safe from the dreaded low battery warning on their devices and everyone at some point has experienced losing battery power either on their smartphone, tablet, or laptop when they need it the most.
This is where the new Goal Zero Sherpa 100PD comes in handy. Designed for life on the go, this versatile power bank is the perfect solution to keep your devices charged no matter where you find yourself.
The Sherpa 100PD provides fast and convenient charging with two USB-A and a USB-C port as well as a wireless Qi charging pad. The power bank itself takes about 3 hours to charge when plugged into the wall or 3-5 hours from a car's 12V adapter.
Another option is to pair it with the Goal Zero Nomad 5 Solar Kit to charge when out in the wild but that will take over 10 hours.
The Goal Zero Sherpa 100PD's dimensions are a little bigger than the footprint of a smartphone, is one inch thick and weighs less than a pound and a half.  Sure, it's not as small as most portable battery packs designed to charge a single phone, but it does possess more functionality than your typical power pack.
The power bank is incredibly portable given its abilities to charge several devices at once and lightweight enough to easily fit in a pack, bag or even in your hand.
While you may not use it daily as other options are available while at home or at the office, this device is a powerhouse when on the road.
The Sherpa 100PD features an incredible 25,600mAh battery capacity and is approved as an airline carry-on. This is a major achievement and travel solution for those that use their devices while in transit.
The power bank can recharge a tablet up to four times and a laptop twice on a single charge. Now you can binge-watch your favorite show or finish the TPS report due at the office, while on a flight, train, or other modes of transportation that don't require you to drive.
One highlight of the power bank is the digital display that shows much power is left to ensure you don't completely drain the battery.
Like many batteries, there is a shelf-life, however, you can keep the Sherpa 100PD plugged in without worrying about overcharging due to the power management system with low-battery protection built-in, otherwise, you'll need to charge it every 3 to 6 months to ensure you get maximum use from the battery and avoid it going bad. There is a 12-month warranty on the power bank in case something were to go wrong.
"The Wireless Qi charging pad has a 5W max output with enough power to recharge your smartphone up to eight times without a cable."´
The Wireless Qi charging pad has a 5W max output with enough power to recharge your smartphone up to eight times without a cable. At 5W its a bit slow to charge, but it is a great overnight solution to wake up with a full battery to start the day.
The wireless Qi charging is turned on by a single button and is equipped with an LED light that changes color from blue to green so you know when it's working and charging the Qi-enabled device, such as a newer iPhone or pair of AirPods.
The two USB-A ports have an output of up to 12W max for devices with proprietary charging such as fitness trackers, GPS devices, and both micro-USB and Lightning port phones. The USB-C port has an input/output of up to 60W max, which is enough to reliably provide power to laptops, tablets, phones and other miscellaneous devices such as mirrorless cameras.
For those who are on the go, in the wild, or on some adventure and will be away from power outlets for extended periods of time, the Sherpa 100PD can be paired with a Goal Zero Nomad Solar Kit to charge the power bank itself. We tested one of the latest solar kits from the company, the Nomad 5.
The Nomad 5 Solar Kit is a lightweight, all-in-one solution that includes a small Flip 12 power bank and solar panel. The Flip 12, 5W power bank can power phones and small USB-powered devices on its own and can be charged with the solar panel, albeit a slower process, taking about 4-5 hours.
The Flip 12 can be removed and used daily with a USB-A cable to charge devices and can be charged via a USB power source in about 3 hours.
When nesting on the solar panel, the Flip 12 stays secured to the back. The Nomad 5 features a built-in kickstand that can be adjusted at multiple angles to position the solar panel for optimal solar collection.
The Nomad 5 is very portable and lightweight with dimensions of 9.5 x 7 x 1.1 inches and weighs in at only 12.7 ounces. It easily can be attached to a backpack while in the outdoors and on the move or simply positioned on the ground when at base camp.
The Goal Zero Sherpa 100PD retails for $170 and comes with a USB to USB-C connector cable, which is expensive these days for a portable battery. The Nomad 5 Solar Kit comes with the Nomad 5 solar panel and a Flip 12 power bank and retails for $80, which is more reasonable in price with fewer options available.
Overall, the Goal Zero Sherpa 100PD and Nomad 5 Solar Kit are well designed, high-quality equipment that also has a bit of modern styling to look good no matter where you take them.
There are many features of the Sherpa 100PD that make this one of the best options on the market including the portability with the ability to charge multiple devices including USB-C equipped laptops, the digital battery life display, the power management to avoid overcharging, and the airline approved design.
The Qi charging pad is also a nice bonus to free up the USB ports and convenience of not needing to plug it in to charge or search for cables.
The Nomad Solar 5 kit is extremely lightweight, versatile, and works well for what it is. The drawbacks are the price, but as they say, you get what you pay for and these products make for great travel companions. EDC
Goal Zero
Goal Zero Sherpa 100PD
MSRP: $170
Nomad 5 Solar Kit
MSRP: $80
Editor's note: A version of this article first appeared in the EDC Buyer's Guide Winter, 2020 print issue of American Survival Guide.