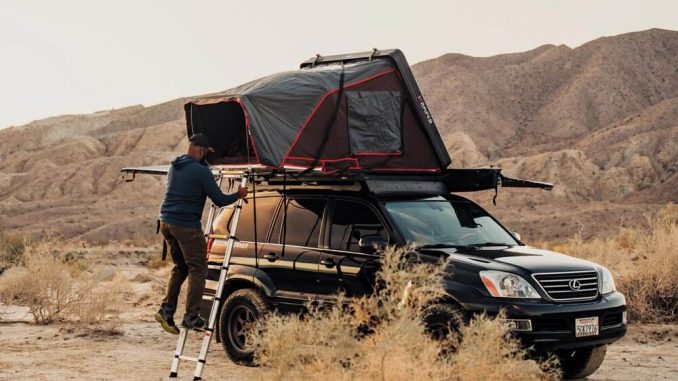 American Survival Guide is always on the lookout for the best new gear for our readers. This month, we're happy to bring you a variety of new firearms, knives, camping gear and survival equipment. Whether you're looking for gear to defend your loved ones, keep them fed and hydrated through an emergency or are just looking to spend some time relaxing or exploring the outdoors, we have a broad selection of quality products for your consideration.
Cold Steel SRK Compact Fixed Blade
The original Cold Steel SRK was introduced in 1990 and has been one of the company's most popular models ever since. It's been a popular choice for Special Operations survival training because of its simple, effective design, rugged construction and ease of maintenance. The brand-new SRK Compact offers all the features that made its big brother such an iconic knife, but in a smaller, thinner and lighter package. The 5-inch, 4mm-thick blade is made of tough SK5 high-carbon steel. The 4.5-inch handle is overmolded with textured Kray-Ex and includes an integral guard. The blade includes a precision-molded Secure-Ex sheath and weighs only 5.1 ounces.
MSRP: $53.99
When Benchmade set out to design the new Bailout knife, it had three things in mind: It needed to be lightweight, slim and—above all—strong. The Bailout weighs only 2.7 ounces. It features a 3.38-inch blade made from 2.3mm-thick CPM M4 steel. The handle scales are hard-anodized 6061-T6 aluminum with a slim profile for easy carry. The mini deep-carry pocket clip is reversible for either right- or left-hand carry. Lockup is achieved with the legendary Axis locking system for true, ambidextrous use. If you want a survival knife you can keep in your pocket, the new Bailout might be exactly what you're looking for.
MSRP: $250
The new ZT 0308 harkens back to the company's roots and is a beefy, rugged folder for those who don't mind carrying larger knives. The 3.75-inch blade is made from CPM20CV steel. The blade rides in the handles on KVT ball bearings, opens via an integrated flipper and is held in place with a sturdy, new, 0.25-inch solid pivot that's designed to be field adjustable with a 0.5-inch wrench. Lockup is achieved with a steel-reinforced titanium frame lock. The lock side of the knife is 3D-machined titanium, while the presentation side is made from 3D-machined G10 that's reinforced with a titanium liner. With an overall weight of 6.9 ounces, this knife is designed to dominate the field—not disappear inside a pocket.
MSRP: $375
Cold Steel 4-Max Scout Folder
When Andrew Demko designed the original 4Max, his goal was to make a rugged folding knife with a 4-inch blade. While it was a successful design, the 4Max was expensive to make and difficult to manufacture. The new 4Max Scout features Griv-Ex handles over stainless steel liners. The blade profile is the same as the original but is made from 5mm thick Japanese AUS10A stainless steel. Lockup is achieved with the Tri-Ad lock. The back spacer is tough Griv-ex and the pocket/belt clip is reversible. With a 10-inch open length and a weight of 10 ounces, the 4-Max Scout is just as tough as the original and is considerably less expensive.
MSRP: $129.99
Since the advent of the 5.7×28 cartridge, the availability of platforms to shoot it from have been extremely limited and expensive. Firing a 40-grain projectile at about 1,590 fps from a pistol-length barrel, the 5.7 cartridge generates a lot of power in a little package. The new Ruger 57 was developed to handle this high-pressure powerhouse with ease, comfort and accuracy. The billet steel slide includes lightening cuts, adjustable sights and accommodates optics. The grip angle and manual safety are reminiscent of the venerable 1911. The magazines are designed to hold 20 rounds of ammunition and are available with a 10-round capacity for states that restrict constitutional rights.
MSRP: $799
Benchmade 535BK-2 Bugout Folder
The Benchmade Bugout has been one of the most popular models in the Benchmade lineup since its introduction. By combining a versatile blade shape, along with thin, light construction and a strong lock that's easy to operate one-handed, the Bugout appeals to a wide range of users. The new 535BK-2 features a fully blacked-out DLC finish and Benchmade's new CF-Elite handle construction. The new handles make the Bugout even lighter than its predecessor while boasting greater rigidity under pressure. Lockup is achieved with the Axis lock system, and the 3.24-inch blade is made from CPM S30V. Weighing only 1.8 ounces, the 535BK-2 is so light that you'll forget it's there … until you need it.
MSRP: $170
Shield Arms S15 Glock 43X/48 Pistol Magazine
As a result of their slim profiles, the Glock 43X and Glock 48 have proven to be extremely popular concealed-carry options in the Glock lineup. Until now, that slender profile has come at the cost of reduced ammunition capacity. Shield Arms has designed a new, flush-fit magazine that fits both the 43X and the 48; it takes their capacity from 10 to 15 rounds. The Shield Arms S15 magazine is a high-quality metal magazine that provides a 50 percent capacity increase over the stock offering. All S15 magazines are produced in the USA for Shield Arms by Check-Mate industries. They come with a Spring-for-Life guarantee and a 100 percent lifetime warranty.
MSRP: $39.99
Ruger realizes that everyone has the right to self-defense and has developed the new Lite Rack LCP II. Carrying a firearm is a responsibility requiring the confidence that results from regular practice, and the Lite Rack LCP II was designed accordingly. The Lite Rack system includes refined slide serrations and pronounced cocking ears. Combined with a lighter recoil spring, the LCP II has a slide that's easy to manipulate. The new floorplate assembly boosts capacity and ensures a solid grip. The .22LR chambering means that extensive training and shooting will be both comfortable and affordable.
MSRP: $349
The MSR Pocket Rocket has been a staple tool for backpackers, campers, survivalists and outdoorsmen for many years. Its reputation for reliability and quality is unmatched. The new Pocket Rocket Deluxe carries on that tradition of quality and adds some much-appreciated features. A new piezo igniter has been added, removing the need to carry a separate igniter. It's contained inside the burner for maximum durability. A pressure regulator ensures fast boil times, even in cold weather—when used with low-pressure canisters. The broad burner improves wind resistance and allows for simmering at lower temperatures.
MSRP: $69.95
iKamper Skycamp Mini Rooftop Tent
While rooftop car-camping has become increasingly popular, it's typically been necessary to use larger vehicles. The iKamper Skycamp Mini was designed to change that. Weighing only 125 pounds, the Skycamp Mini can be fitted to compact cars, shortbed pickups or truck cabs. The poly-cotton canvas tent shell is waterproof and made with quilted insulation to reduce both condensation and noise. The floor is made from a durable honeycomb aluminum that's insulated for maximum comfort. The Skycamp Mini comes with a memory foam mattress for maximum comfort. Setup takes under a minute, and the lockable hard shell provides maximum protection while not in use.
MSRP: $3,499
Hill People Gear is well known for its innovative chest-mounted pack systems. These small packs are designed to discreetly carry a firearm, as well as a variety of support gear. The company recognized that while these chest-mounted packs are perfectly at home in the backcountry, they might be out of place or inappropriate for more "civilized" environments. Consequently, it removed the mesh harness from the Snubby Kit Bag and replaced it with a 1.5-inch web belt that can be worn around the waist or across the body. The Belt Pack will accommodate pistols up to the size of a Glock 19, but it's much more at home with subcompacts. EDC items can be organized inside the large, zippered main compartment, as well as the front's zippered flat pocket.
MSRP: $115
Outdoor Vitals LoftTech Hybrid 0O-15O-30O (F) UnderQuilt
The new LoftTech Hybrid UnderQuilt is the most ultralight and advanced synthetic quilt in the world. Its LoftTech insulation acts and feels like down but has a siliconized coating that allows moisture to drain away. By combining this new insulation with 800+ FP hydrophobic coated down, Outdoor Vitals has created the perfect balance of insulation stability and moisture resistance. That means the UnderQuilt can handle moisture of all kinds while remaining extremely lightweight and compressible. It's available in multiple temperature ratings.
MSRP: Starting at $119.97
Rick Young Outdoors Ultralight Bino Harness
Harnesses designed to mount binoculars or cameras to your chest have been around for a long time. To date, they've been bulky setups that are prone to tangling, twisting and interfering with backpacks and other gear and use attachment clips that tend to break in cold weather. The Ultralight Bino Harness solves all these issues and more. Made from premium-grade military shock cord and fasteners built to withstand extreme temperatures, this harness is highly adjustable and designed to last. It has a single point of adjustment and can be configured for use as a chest rig, neck strap, side saddle or side pull. Weighing only 1 ounce, this harness will disappear until you're ready to use it.
MSRP: $29.95
Centerline Systems Burrito CFSE
Centerline Systems has long been a favored innovator and manufacturer of heavy-duty outdoor gear. The company uses premium materials to create innovative products designed to last a lifetime. The Burrito CFSE is one of those products. "CFSE" stands for "Cooking Gear, Food/Forage, Shelter/Survival, Everything Else." Not including its outer pocket, the Burrito provides 12.5 liters of storage. It's made from 500D Cordura nylon with a rubberized interior and premium-grade snaps, buckles and webbing. It has dual MOLLE straps, allowing it to be mounted to a pack, as well as four rows of exterior webbing and an expandable compression lid. It's available in a variety of color and camo options.
MSRP: $150
5.11 Tactical A.T.L.A.S. 8-Inch Boots
5.11 Tactical, a global innovator of technical, purpose-built gear, has debuted its A.T.L.A.S. footwear collection. The "All-Terrain Load-Assistance System" series includes this 8-inch boot that's available in Black and Dark Coyote. These boots were designed with the input of, and for, professional end users who carry considerable loads while on duty. The Ortholite footbed, Echo Foam and Force Foam components absorb shock and provide rebound/energy return with every step. The slip- and oil-resistant, high-traction outsole further enhances the wearer's stability, especially when carrying heavy loads.
MSRP: $149
MSR Home Emergency Water Filter
Clean drinking water is a luxury we've come to take for granted in the United States. However, water supply systems can get contaminated, making safe water hard to find. The new MSR Home Emergency Water Filter was designed to provide safe, reliable water when municipal systems are compromised. The two-stage, hollow-fiber filter removes bacteria, protozoa, dirt and microplastics, and activated carbon reduces chemicals, tastes and odors. The filter is easy to use and threads directly to spigots, cisterns and water barrels. The kit is hermetically sealed for long-term storage so it's always ready when you need it most.
MSRP: $39.95