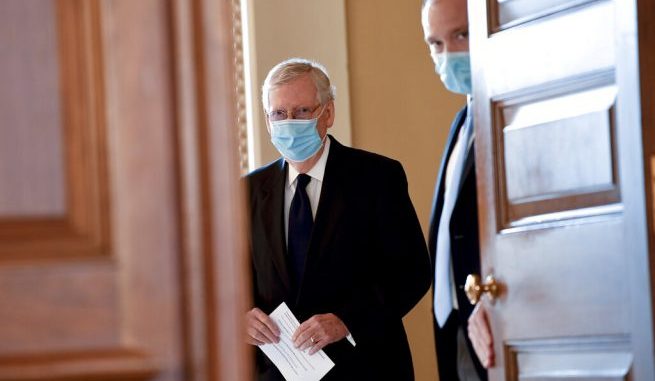 OAN Newsroom
UPDATED 10:50 AM PT — Thursday, August 6, 2020
Senate Majority Leader Mitch McConnell said he believes a new relief bill is coming "in the near future." In an interview Thursday, he said he's not going to speculate on a timeline, but noted that there is a "'bipartisan desire to get to an outcome.
The Kentucky Republican acknowledged the economy needs an additional boost until a viable vaccine is finalized.
We need to urgently help working families and those who've lost their jobs. But the Speaker and the Democratic Leader are blocking the entire rescue package over a special, unrelated tax cut for rich people in high-tax blue states.

— Leader McConnell (@senatemajldr) August 4, 2020
When asked why not target businesses that are faltering, he noted small businesses were specifically targeted through the "enormously successful" Paycheck Protection Program (PPP) loan program. He then called on the program to be renewed.
"Obviously the overall unemployment is still way too high, but the PPP program — which is not in the Democratic-passed house bill at all — has done a great job to help small businesses struggle through this and not close their doors," McConnell stated.
The Senate majority leader also noted he believes the next bill should include liability reform. McConnell said he doesn't think the economy has a shot at getting back to normal if "every entity in the country is dealing with frivolous lawsuits."